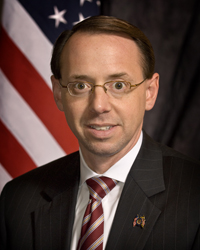 When Rod Rosenstein applied to Main Justice through the Attorney General's Honors Program in 1989, he hoped to spend a few years as a federal prosecutor. More than two decades later, he is still grateful each day for the privilege of representing the United States.
"The U.S. Attorney's Office seeks to inspire public trust and confidence by adhering to the highest ethical and professional standards," Rosenstein has said. "Law-abiding citizens are counting on us to fight crime, protect government property and promote the rule of law."
Rosenstein graduated cum laude from Harvard Law School, where he was an editor of the Law Review. He served as a clerk to Judge Douglas Ginsburg of the U.S. Court of Appeals for the D.C. Circuit before joining the Justice Department's Public Integrity Section as a corruption prosecutor.
During the Clinton Administration, Rosenstein worked as Counsel to the Deputy Attorney General and Special Assistant for the Department's Criminal Division. He subsequently served as an Associate Independent Counsel, as a Maryland Assistant U.S. Attorney, and as the Principal Deputy Assistant Attorney General for the Justice Department's Tax Division. Rosenstein also has taught law school courses at the University of Maryland and at the University of Baltimore.
Since his appointment as U.S. Attorney in 2005, Mr. Rosenstein has emphasized the need to work cooperatively with local, state and federal officials. He continues personally to litigate cases in the federal district and appellate courts.
Mr. Rosenstein and his wife, Lisa, have two daughters.
Updated March 3, 2015