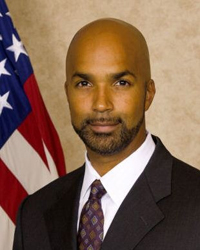 Carter Stewart thought he had the perfect job when he was an Assistant U.S. Attorney in San Jose, California, where he prosecuted a variety of cases including drug and gun crimes, environmental crimes, and the illegal distribution of steroids to professional athletes.
"Then one day my wife came home and said her mother was retiring to Columbus, Ohio, and that she wanted to move there, too," Stewart recalls. Though he argued fiercely against the propriety of moving to a place to which he had never been, the next thing he knew, he was looking at houses in Central Ohio. Moving to Columbus, he says, "turned out to be the best decision that I never made."
Stewart quickly grew to embrace his new home, working as a litigator with the firm of Vorys, Sater, Seymour and Pease from July 2005 until he was appointed U.S. Attorney for the Southern District of Ohio in 2009. In addition to his regular duties, he now chairs the Attorney General's Child Exploitation and Obscenity Working Group.
Stewart received a J.D. degree from Harvard Law School in 1997. He holds a Master of Arts Degree in Education Policy from Columbia University and received his undergraduate degree in Political Science from Stanford University. After law school, Stewart clerked for the Honorable Robert L. Carter, U.S. District Judge in the Southern District of New York and the Honorable Raymond L. Finch, U.S. District Court Judge for the District of the Virgin Islands.
Stewart notes that he received more visitors while living in the Virgin Islands than Columbus, but he still thinks the Midwest is a wonderful place for him and his wife to live and raise their three children.
Updated March 3, 2015