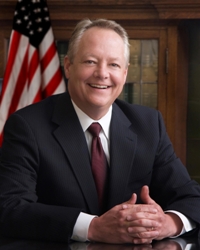 Stephen R. Wigginton was nominated for United States Attorney for the Southern District of Illinois by President Barack Obama on April 15, 2010, and was confirmed by the U.S. Senate on August 5, 2010. He was sworn in as U.S. Attorney on August 27, 2010.
Prior to becoming U.S. Attorney, Mr. Wigginton co-founded Weilmuenster & Wigginton, P.C., in 2000 and focused his practice in the areas of litigation, labor and municipal law. From 1999 until his appointment as U.S. Attorney, Mr. Wigginton served as an Assistant State's Attorney in the Felony Division of the Madison County State's Attorney's Office.
Mr. Wigginton also served as an attorney with Becker Paulson & Hoerner, P.C., from 1996 to 2000; with Kassly Bone Becker Dix Reagan & Young from 1994 to 1996; and with Jenkins Kling & Sauerwein, P.C., from 1992 to 1994. Mr. Wigginton served as Assistant Circuit Attorney-Felony Prosecutor with the City of St. Louis' Circuit Attorney's Office from 1990 to 1992. Mr. Wigginton began his legal career working as an attorney in the Office of Legal Counsel for the May Department Stores Company from 1988 to 1990.
Mr. Wigginton is a member of the Illinois and Missouri bar and has tried or argued cases in the Illinois and Missouri Circuit Courts, the Courts of Appeal and the Illinois Supreme Court. He has been admitted in a number of Federal District Courts, including the United States District Court for the Southern District of Illinois and the Seventh Circuit Court of Appeals.
Mr. Wigginton has been an active member of various bar associations in Illinois and Missouri, a speaker at various conferences and seminars and was twice appointed by the Illinois Supreme Court to serve as a member of the Character & Fitness Committee for the Board of Admissions. Prior to becoming U.S. Attorney, Mr. Wigginton served on a number of charitable and educational boards. He is also a former member of the Board of Trustees for the Southern Illinois University system. Mr. Wigginton is a life-long resident of Southern Illinois. Mr. Wigginton graduated from Southern Illinois University at Edwardsville in 1985 and St. Louis University School of Law in 1988.
Since becoming US Attorney, Mr. Wigginton has been recognized for his leadership in law enforcement. He received the "Olympian Award" from the Southern Illinois Police Chiefs Association for his leadership in tackling violent crime. He received the "Extra Effort Award" from the Edwardsville School District for his work in combating heroin related crimes and his participation in Project Drugsmart. Earlier this year the Attorney General appointed Mr. Wigginton to the position of Vice-Chairman of the Attorney General's Advisory Council Violent Crime Subcommittee.
Updated April 30, 2015