Arab and Muslim Engagement
United Front is Best Against Terrorism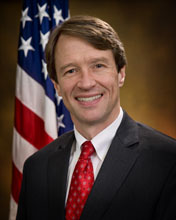 As the 10th anniversary of the Sept. 11, 2001, attacks approaches, those of us in law enforcement know all too well that al-Qaida and other terrorist organizations continue to target the United States.
While some of their attacks originate overseas, foreign-based terrorists increasingly seek to recruit and radicalize individuals here in the United States.
Al-Qaida has made no secret of its intentions.
Anwar al-Awlaki and others like him around the world, often using the Internet, are encouraging Americans to launch attacks against their neighbors inside the United States. We have seen the results of these efforts in Fort Hood, in Times Square, and elsewhere.
Preventing these attacks is the highest priority for our nation's law enforcement organizations.
Reasonable minds can differ about the best approach to this threat. Some, however, have resorted to portraying American Muslim communities, or the Islamic faith itself, as a threat to our country.
While we must repel attempts by foreign terrorists to radicalize Americans, vilifying Islam will not make America safer. Indeed, suggesting that most American Muslims are less loyal than their countrymen is not only inaccurate, but also adds an air of legitimacy to violent extremism of another kind: directed not by American Muslims, but at them.
In the past year, a passenger stabbed a New York City taxi driver after learning that he was a Muslim; an arsonist in Tennessee burned a mosque to the ground; a man in Texas set fire to a mosque playground. It happens here too.
A Madera man, now being prosecuted by my office, was arrested last month after allegedly vandalizing a mosque and posting signs containing warnings and threats about Muslims.
Although Sikhs are not Muslims, they are often mistaken for Muslims and can also be the targets of violence. Two men recently assaulted a Sikh taxi driver in West Sacramento while shouting anti-Middle Eastern epithets.
Stigmatizing Muslim communities not only contradicts our nation's commitment to religious freedom, it also makes it easier for al-Qaida to radicalize Americans. A key tenet of al-Qaida's militant propaganda is that America and Islam are at war.
This is not true. Practitioners of every faith are guaranteed the right to worship freely in this country. Attacks by al-Qaida have killed many more Muslims than non-Muslims. Acts of violence and hostility against American Muslims obscure this fact and seem to corroborate the myth that America is at war with Islam, bolstering al-Qaida's efforts to radicalize Americans.
Instead, we must recognize that American Muslim communities are part of the solution to the problem of radicalization. Al-Qaida radicalizes individuals, not communities.
Many in American Muslim communities have spoken out against violent extremism, played a key role in alerting law enforcement to potential threats, and served as vital counterweights to extremist groups that seek to influence impressionable young men.
The U.S. Department of Justice has been working to promote greater communication, collaboration, and trust between American Muslims and federal law enforcement. As part of that effort, I have spoken with Muslim community members in many settings over the past year, and listened to their concerns about national security and criminal justice issues, civil rights and other matters.
They are parents, teachers, wage earners and civic leaders contributing to the safety and well-being of their communities. In these meetings, they express the same concerns that other members of our community do: they want safe streets, good schools, and fair treatment.
The values that tie us together as Americans -- faith in equal opportunity and in religious and political freedom -- are far more significant than the cultural and religious traditions that set us apart from our neighbors.
Violent extremism of all kinds feeds on anger, misunderstanding, and alienation. Law enforcement alone cannot eradicate these root causes of terrorism and hate crime. Each of us should do all that we can to forge lasting relationships with our Muslim neighbors and join them in affirming that they, too, are a welcome part of this diverse society that contains many faiths, languages and ethnicities.
A united front is the best defense for all Americans, regardless of their faith, against acts of violent extremism of all types.