Arab and Muslim Engagement
Bin Laden's Death Should Unite All Americans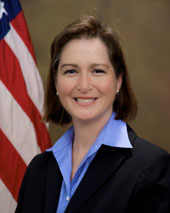 The recent death of Osama bin Laden brought celebrations to the streets at Ground Zero in New York, the White House and, closer to home, Dearborn.
The 9-11 attacks that bin Laden masterminded killed thousands of Americans and changed so much about our way of life. Ten years later, the indelible mark left by those attacks remains for so many of our citizens – those who lost loved ones, those of us in law enforcement, and those in Muslim and Arab American communities.
As a terrorism prosecutor since 2002, I have learned a great deal about the threats to our national security. Threat assessments show that members of Al-Qaeda and other terrorist groups remain determined to kill Americans, and the death of bin Laden will not end that reality. New leaders have already taken his place, using the Internet to recruit and radicalize young people. The Justice Department continues to make the prevention of terror attacks our top priority, and our prosecutors in Detroit work every day in that pursuit to detect and disrupt terrorism.
As part of my job, I have also seen the backlash of the 9-11 attacks against citizens who are Muslim and Arab Americans. They have been the victims of threats and terrorism hoaxes since September 12, 2001. While our region, with its diverse population, is generally respectful of different cultures, some in our community blame and fear all Muslim and Arab Americans because of the acts of 19 hijackers. But vilifying Islam and those who observe it will not make America safer.
As President Obama said, just as President Bush did shortly after 9-11, "our war is not against Islam. Bin Laden was not a Muslim leader; he was a mass murderer of Muslims. Indeed, Al Qaeda has slaughtered scores of Muslims in many countries, including our own."
Terrorists distort the Islamic faith to serve their purposes. Fear and ignorance about Islam also contribute to the problem. Fear-mongering publicity seekers, like the one who visited Dearborn in recent weeks, only fuel the flames of intolerance and violence.
But those who portray Muslim and Arab Americans as the enemy are playing into the hands of terrorists in two significant ways. First, they cause harm to our way of life. Our freedom and diversity are among the virtues that make America what it is. Intolerance of religious beliefs has no place in America. Our Constitution protects the rights of Muslim and Arab Americans, as it does all Americans. Suggesting that Muslim and Arab Americans are less loyal than other Americans is not only inaccurate and irresponsible, it also fosters violent extremism of another kind: violence directed not by Muslim and Arab Americans, but at them.
Second, the mistreatment of Muslim and Arab Americans also creates a real danger to our national security by providing terrorists with ammunition when they seek to radicalize young people. These recruiters use religious bigotry as more than just a wedge to divide us. They use the words and images of violence against Muslims to spread the false narrative that America is at war with Islam.
Instead of being part of the problem, our Muslim and Arab American neighbors are working to be part of the solution. Law enforcement regularly engages with Muslim and Arab American leaders in our community to improve understanding and to share information. Because of the relationships of trust that have been built, Muslim and Arab Americans provide information to law enforcement about suspicious activities, and they do it for the same reasons every good citizen does – because they want to protect our community.
The Muslim and Arab Americans I have met are doctors, lawyers, teachers, engineers, police officers, U.S. military veterans and parents, and are among our region's most patriotic citizens. They or their ancestors came to this country for the same reasons we all did – to build a better life for their families. We all want the same things: freedom, a safe environment for our children to grow into productive citizens, a chance for economic prosperity, and an opportunity to improve our community for future generations.
Our battle against terrorism requires that we vigilantly protect the qualities that make America great, including our religious freedom and our diversity. Respect for different cultures not only preserves our American values, it also safeguards our national security. Let's use bin Laden's death as the defining moment when we agreed to stand together against terrorism and made our country stronger.