Russian Secret Agents in the Southern District of New York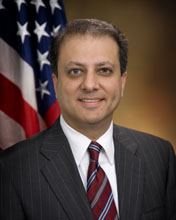 Preet Bharara, U.S. Attorney for the Southern District of New York
On a single afternoon in June 2010, ten Russian secret agents were arrested at locations throughout the United States.  Seven of these agents were "deep cover" operatives, the crown jewels of Russia's foreign intelligence program, who had been dispatched to infiltrate the United States by posing as ordinary Americans.  Using carefully constructed false identities, the operatives pursued advanced degrees in America, built impressive careers, and raised children here — all while keeping their true names and their connections to Russia hidden from co-workers, friends, and even their American-born children.  The secret agents were tasked with recruiting sources and with gathering information in fields such as U.S. foreign and economic policy.  Following the arrests of the agents, the Department of Justice achieved a string of rapid successes — in less than two weeks, the operatives were indicted; admitted their real identities; and pled guilty in open court.  The blow to Russian intelligence was sudden and devastating.  After a flurry of top-level diplomatic activity, the covert operatives were exchanged for four Russian prisoners whose freedom was tremendously important to the United States.
The investigation of the Russian secret agents employed a wide array of counterintelligence techniques.  Acting pursuant to warrants obtained from the Foreign Intelligence Surveillance Court, the FBI spent years surreptitiously gathering real-time information on the Russian secret agents as they operated in locations throughout the United States and abroad.  For example, FBI agents repeatedly conducted risky "sneak and peek" searches of the Russian operatives' houses — clandestinely entering; copying and photographing evidence; installing listening devices; and then quickly leaving, all without anyone knowing they had been in the residence.  Using high-tech tools, FBI teams covertly videotaped the Russian operatives in action — as they buried cash; emptied "dead drops;" and conducted "brush passes," quickly exchanging bags of money with their Russian government handlers as they scurried past each other in public.  FBI agents raced to install video-monitoring devices inside hotel rooms, and in small coffee shops where the Russian operatives had arranged to met with their handlers.  Invisible to the naked eye, encrypted text messages to Moscow were embedded by the Russian agents inside photographs that were posted on public Internet sites — and the FBI succeeded in locating, decoding, and reading these hidden messages.
As the investigation unfolded, Southern District of New York prosecutors worked to develop an aggressive strategy for charging the Russian agents in a way that would not compromise sources and methods.  This strategy (which cannot be described here) took years to develop and execute, and it ultimately led to the filing of two extensive criminal complaints in June 2010.  One complaint charged nine secret agents based on the FBI's comprehensive multi-year investigation.  The second complaint charged two additional operatives, based on expertly-conducted "false-flag" operations, in which undercover FBI agents passed themselves off as members of Russian intelligence, and met with the secret operatives.  After a series of hotly-contested detention arguments, each Russian agent was ordered held in federal custody.  Shortly thereafter, on July 6, 2010, a grand jury sitting in the Southern District of New York returned a two-count indictment charging each of the defendants with illegally conspiring to act as agents of the Russian Federation, in violation of Title 18, United States Code, Section 371, for their participation in the Illegal Agents Conspiracy, and also charging eight of the ten defendants with conspiring to commit money laundering.  On July 8, 2010, each of the ten defendants pled guilty to count one of the indictment.  That same day, all ten defendants were sentenced to time served and were included as part of an international swap of prisoners with the Russian Federation — a swap that resulted in the freeing of four men, long imprisoned in Russia, who were exceptionally important to the United States.