Violent Crime Prevention & Education
Every day in our Central Florida neighborhoods there are more and more victims of violent crime, many of which involve a firearm. As a result, Operation Cease-Fire, a gun violence prevention program, was implemented in Brevard and Seminole counties through a partnership of the Office of State Attorney Norm Wolfinger, U.S. Attorney's Office for the Middle District of Florida, the Bureau of Alcohol, Firearms, Tobacco and Explosives, and local, state, and federal law enforcement, to pursue gun crimes in both state and federal court.
The first Rap Against Violence contest came about when Norm Wolfinger, State Attorney for Florida's 18th Circuit, decided we needed to do more to get our community talking and moving to action to address gun violence in our neighborhoods. Our Rap Against Violence contest and resulting CD was all about getting the "right message" (that gun crime was unacceptable) to the "right people" by the "right messenger".
State Attorney Wolfinger said, "By engaging  the community and its local rappers to change attitudes and behavior when it comes to gun crime, we were able to reach directly into the hearts and minds of the very people that gun violence hurt the most.  The distribution of free Rap Against Violence CD's in the neighborhoods kept that message going.  Florida Department of Law Enforcement stats show firearm offenses continuing to decrease in 2010 by 27% in Brevard County and 19% in Seminole County."
"Oftentimes teens see gangs as a way to make money, feel protected or feel like they are a part of a "family"
but this couldn't be further from the truth. We want you to know there are better options available to you. In order
to help you become more aware and educated on these issues, the Tampa Police Department has launched
a new, interactive website: TampaBayGangs.com.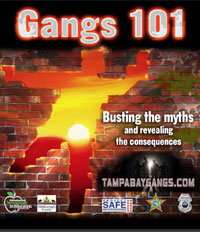 "By working with local partners we have developed a site that uses innovative, interactive technology that actually custom tailors a conversation with each person who logs on to the site. We want young people to learn constructive and productive ideas that will place them on a positive path in life. Local role model Warrick Dunn hosts TampaBayGangs.com and I thank him for his participation and support of the program." - Excerpt from letter to parents from former Tampa Mayor Pam Iorio
The Eastern District of North Carolina saw an increase in the amount of armed robberies of commercial establishments in early 2010.  Similar to how banks post signs warning of the federal consequences of robbing them, we adapted the idea for use in other retail establishments, particularly convenience stores.  The victims of these armed robberies are simply trying to earn a living and support their family and do not deserve to be terrorized by armed robbers sticking guns in their faces or even shooting them during the robbery.  The U.S. Attorney's Office has stepped up Hobbs Act prosecutions to target these criminals with the full weight of federal law.  To date, three of the Project Safe Neighborhoods Sites in the Eastern District of North Carolina are using these signs in convenience stores and other retail establishments to send the message that these crimes will not be tolerated and will be prosecuted using the Project Safe Neighborhood model.