Civil Division
---
General Civil Section | Civil Fraud Section | Financial Litigation Section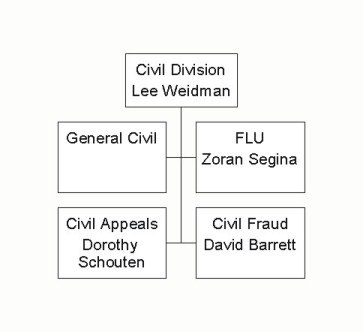 The Civil Division is responsible for representing the federal government and its agencies and employees in civil litigation in the District. A few civil cases are handled by DOJ attorneys from Washington DC or from other offices in the field.
AUSAs in the Civil Division are active at both the trial and appellate levels. It is normal practice for the same AUSA to carry a case from investigation through the District Court and on to the Ninth Circuit.
The Civil Division is divided into three sections.
The largest section is the General Civil Section. This section offers broad exposure to civil litigation. While each AUSA in the section is assigned a wide variety of cases, many develop expertise in particular areas of law depending upon their interests and the needs of the USAO. Two primary areas of practice are tort cases, including medical malpractice and Constitutional tort cases, and Title VII cases alleging discrimination in hiring and employment practices by agencies of the United States. Other areas of practice include immigration, bankruptcy, debts owed the United States or its agencies, breach of contract, judicial review of administrative findings, and injunctive proceedings. Some cases arise in the lands area, including condemnation, ejectment, and quiet title actions. In addition, section AUSAs handle civil penalty and injunctive relief actions to enforce federal environmental laws both as plaintiffs and defendants.
The next largest section is the Affirmative Civil Enforcement Section. This section investigates and litigates civil False Claims Act cases involving fraud on the United States and civil penalty cases involving a broad variety of government programs. False Claims Act cases primarily involve defense contractor and health care fraud.
The third section is the Financial Litigation Section. This section pursues recoveries of moneys owed the United States as the result of both criminal and civil judgments.
The chief contrast between the role of a new AUSA in the Civil Division and that of his or her counterpart in a private law firm is the high degree of individual responsibility. Every new Civil Division AUSA is assigned cases for which he or she will be personally responsible as soon as he or she begins practice. Many of these involve large dollar amounts and pose unique questions of fact and law. Taking depositions, preparing and answering interrogatories, negotiating for settlement, trying cases, and writing and arguing appeals allow new Civil Division AUSAs to develop quickly into experienced litigators. Although new AUSAs are given great responsibilities, they also are provided sufficient advice, direction, and supervision to assist them in assuming those responsibilities.
Mortgage Settlement Information

SunTrust Mortgage Settlement Information

Individuals who believe that they may have been victims of lending discrimination by Countrywide and have questions about the settlement may email the Department of Justice at countrywide.settlement@usdoj.gov .