Our District
The Central District of California (CDCA) is made up of the seven counties of Los Angeles, Orange, Riverside, San Bernardino, San Luis Obispo, Santa Barbara, and Ventura. With a population of more than 18 million, it is by far the most populous federal judicial district, with almost twice the population of the next-largest district. The district extends from the Pacific Ocean on the West to the Nevada and Arizona borders on the East, covering over 40,000 square miles. The district includes 35 cities with more than 100,000 residents, and encompasses a cultural diversity virtually unmatched in the country.
Population | Area | Federal Land and Facilities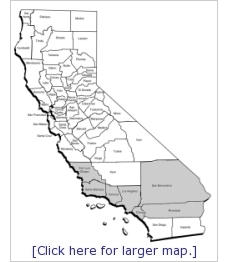 Mortgage Settlement Information

SunTrust Mortgage Settlement Information

Individuals who believe that they may have been victims of lending discrimination by Countrywide and have questions about the settlement may email the Department of Justice at countrywide.settlement@usdoj.gov .