Fresno Office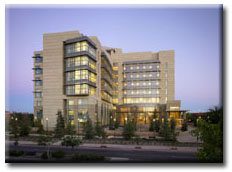 Fresno Federal Courthouse
2500 Tulare Street, Ste. 4401
Fresno. CA 93721
Phone: (559) 497-4000
Fax: (559) 497-4099
TTY: (559) 497-4500
The Fresno Office of the United States Attorney's Office for the Eastern District of California serves the counties of Calaveras, Tuolumne, Stanislaus, Mariposa, Merced, Madera, Fresno, Kings, Tulare, Inyo and Kern. The Fresno Office is located in the middle of the fertile San Joaquin Valley, also known as the Central Valley, which is a major supplier of food and agricultural products for the United States and the world. This area also includes national treasures such as Yosemite National Park and Sequoia-Kings Canyon National Forest.
Fresno is one of the fastest growing cities in California, due in part to its central location to major tourist areas in California. As a result of the increasing population growth and the expansion of urban areas, Fresno and surrounding communities have been impacted by the same types of crimes which usually accompany large urban areas. Unfortunately, the Central Valley is one of the nation's largest producers and suppliers of methamphetamine. The office works closely with the Drug Enforcement Administration, the California Bureau of Narcotics Enforcement, and local law enforcement agencies to prosecute these cases.
Also due to its growth, Fresno has become a rich environment for financial crimes, such as bankruptcy fraud, advance fee (Ponzi) schemes, and bank fraud. In addition, Fresno and the surrounding counties are locations in which many illegal aliens reside. The Fresno Office prosecutes over 240 cases per year involving individuals illegally in the United States, all of whom have prior felony convictions. The office also prosecutes crimes related to the internet, such as child pornography, along with a variety of other types of cases including bank robberies, environmental crimes, and firearms offenses.
The Fresno Office is staffed by 19 Criminal and 5 Civil AUSAs.