The Medicine Abuse Project
Goal is to prevent half a million teens from abusing medicine within five years
Brings together parents, educators, coaches, health care providers, government, law enforcement officials and other partners to help save lives by preventing teen medicine abuse
Calls on people to take a Pledge at MedicineAbuseProject.org: "As a [Parent/Grandparent I Health Care Provider I Community Leader I Educator], I pledge to learn about teen medicine abuse, to safeguard my medicines and to talk to the teens I know about this issue."
People can participate in the global conversation and share personal stories using the hashtag #endmedicineabuse and following @MedicineAbuse on Twitter
Will launch September 23 – 29, 2012 and continue as a multi-year, national action campaign
Teen Medicine Abuse: A Growing Epidemic
One in six teens has used a prescription drug (when a doctor had not prescribed it for them) in order to get high or change their mood, and most have gotten it from family or friends. (2011 Partnership Attitude Tracking Study, sponsored by MetLife Foundation)
More Americans die from drug overdoses than in car crashes, and this increasing trend is driven by prescription painkiller overdoses. (Centers for Disease Control and Prevention [CDC])
One person dies every 19 minutes from a drug overdose in the United States, and this increasing trend is driven by prescription painkillers. (CDC)
Prescription medicines are now the most commonly abused drugs among 12 to 13 year olds. (National Survey on Drug Use and Health [NSDUH])
Two-thirds of teens who abuse pain relievers say they got them from family members or friends. (NSDUH)
Opioid pain relievers are responsible for more overdose deaths than cocaine and heroin combined. (CDC)
Nonmedical use of prescription painkillers costs health insurers up to $72.5 billion annually. (Coalition Against Insurance Fraud, 2007)
Emergency department visits involving misuse or abuse of pharmaceuticals has more than doubled between 2004 and 2010. (Drug Abuse Warning Network [DAWN] Report, 2010)
---
Partners and Sponsors
Below is a selected list of strategic partners, federal partners and funders for The Medicine Abuse Project. A full list can be found at MedicineAbuseProject.org:
American Academy of Family Physicians
American College of Emergency Room Physicians
Centers for Disease Control and Prevention
National Association of Boards of Pharmacy
U.S. Attorneys' Offices
National Association of School Nurses
National Narcotics Officers Association Coalition
Pharmaceutical Research and Manufacturers of America (PhRMA)

Event Calendar
No Events Scheduled

If you would like someone from the U.S. Attorney's Office to speak to your group on a public safety topic, please reach out to Director of Community Outreach Cindy Cipriani at (619) 546-9608. Speakers are available to deliver presentations on a wide variety of topics, including (but not limited to):
Anti-bullying/Cyber Bullying
Civil Rights and the United States Constitution
Contacts with Law Enforcement – What to Expect
Federal Criminal Justice System and the Course of a Criminal Case
Immigration Consequences of Criminal Convictions
Internet Crimes Against Children/On-line Safety
Hate Crimes
Human Labor Trafficking
Sex Trafficking/Exploitation of Children
Sex Trafficking/Exploitation of Adults
TSA – An Overview of Airport Security
U.S. Attorney's Office Mission and Responsibilities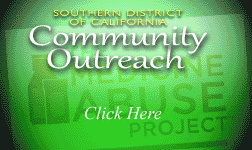 Learn about victim notification and rights, witness information, and helpful resources.