National Night Out 2013
Send a message to criminals and let them know neighborhoods are organized and fighting back.
Join the Imperial Beach Sheriff's Station for the annual National Night Out Against Crime on Tuesday, August 6th 5:00 p.m. to 7:30 p.m. Robert Egger, Sr. South Bay Recreation Center.
Free gun locks for adults while supply lasts Night Out Against Crime is a celebration of community relationships. Meet deputies who patrol your neighborhoods, learn about the many services the Sheriff's Department provides, get crime and I.D. Theft prevention tips and other ways to stay safe. The Sheriff's Weapons Training Unit will also be on hand to talk about gun safety to kids. If you can't make it to this event, leave your porch light on as a show of solidarity on National Night Out.
For more information click on the links in the Event Calendar!
Robert Egger, Sr.
South Bay Recreation Center
1885 Coronado Avenue, San Diego, CA 92154
5 p.m. to 7:30 p.m.

Colina Del Sol Park

5319 Orange Avenue, San Diego, CA 92105
4:30 p.m. to 9:00 p.m.


Event Calendar
No Events Scheduled

If you would like someone from the U.S. Attorney's Office to speak to your group on a public safety topic, please reach out to Director of Community Outreach Cindy Cipriani at (619) 546-9608. Speakers are available to deliver presentations on a wide variety of topics, including (but not limited to):
Anti-bullying/Cyber Bullying
Civil Rights and the United States Constitution
Contacts with Law Enforcement – What to Expect
Federal Criminal Justice System and the Course of a Criminal Case
Immigration Consequences of Criminal Convictions
Internet Crimes Against Children/On-line Safety
Hate Crimes
Human Labor Trafficking
Sex Trafficking/Exploitation of Children
Sex Trafficking/Exploitation of Adults
TSA – An Overview of Airport Security
U.S. Attorney's Office Mission and Responsibilities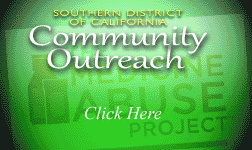 Learn about victim notification and rights, witness information, and helpful resources.