U.S. Attorney/San Diego Unified School District Anti-Bullying Summit
Sophia Jones
Read the essay
2nd Place
Karla Figueroa
Read the essay
(Also chosen were four essays as Judge's Favorites, and 14 for Honorable Mention.)
---
Adrian Altez
Read the essay
2nd Place
Maia Chrostowski
Read the essay
(Also chosen were four essays as Judge's Favorites, and 15 for Honorable Mention.)
During Bullying Prevention Awareness Month, I put out a call to the students in our community. I invited them to think deeply about the problem of bullying. To share their experiences of being bullied and how they had been impacted by its ugliness. And to develop and articulate meaningful steps they could take to stand up and be a part of the solution to this crushing problem.
When I put out that call, I never imagined the incredible response I would get. As I and my colleagues in the U.S. Attorney's Office read the submissions, we were moved again and again by the deeply personal and tremendously thoughtful essays our students wrote. Many of the authors spoke poignantly and intimately about their own stories of victimization and the scars that those experiences left. Some spoke regretfully of having stood silently by as others were bullied. Some even spoke of their personal transformations from bully to anti-bullying advocate.
It is worthwhile to take a few moments to read these essays, as they help us see the pressure-filled world our kids face every day. It is heartening to know that many students concluded that if we work together, we can have an impact and create a safer environment for all students. Our community leaders stand ready to assist. I want to particularly thank San Diego Schools Superintendent Bill Kowba, Channel 10's Kimberly Hunt, Darlene Kanzler of the San Diego Police Foundation, Dr. Mark Kalish, and San Diego Charger Vaughn Martin, who joined our effort to call attention to this issue and to recognize students who took a stand against bullying.
U.S. Attorney, Laura E. Duffy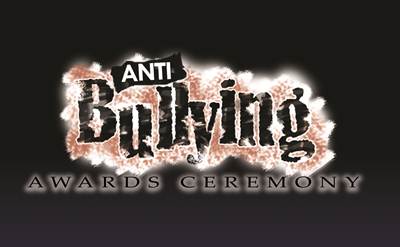 Tuesday, November 13th at 3:00 pm, an awards ceremony was held at the U.S. Attorney's District Conference Center to recognize all the students who wrote essays and to award prizes to the top essay writers.
Video from the 2012 Anti-Bullying Forum

Event Calendar
No Events Scheduled

If you would like someone from the U.S. Attorney's Office to speak to your group on a public safety topic, please reach out to Director of Community Outreach Cindy Cipriani at (619) 546-9608. Speakers are available to deliver presentations on a wide variety of topics, including (but not limited to):
Anti-bullying/Cyber Bullying
Civil Rights and the United States Constitution
Contacts with Law Enforcement – What to Expect
Federal Criminal Justice System and the Course of a Criminal Case
Immigration Consequences of Criminal Convictions
Internet Crimes Against Children/On-line Safety
Hate Crimes
Human Labor Trafficking
Sex Trafficking/Exploitation of Children
Sex Trafficking/Exploitation of Adults
TSA – An Overview of Airport Security
U.S. Attorney's Office Mission and Responsibilities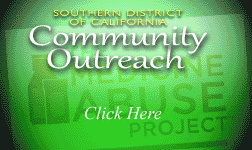 Learn about victim notification and rights, witness information, and helpful resources.