On Saturday, June 8, the U.S. Attorney's Office, along with its partners on the San Diego Somali Community/Law Enforcement Roundtable, put on a Youth Athletics and Resource Fair at Colina del Sol Park in City Heights. Young adults, children and families joined with local, state and federal law enforcement to enjoy a basketball tournament, a soccer clinic and bounce house play. Attendees visited information resource booths and learned about organizations engaged in health and public safety efforts in City Heights.
At the end of the day, participant athletes received recognition from U.S. Attorney Laura Duffy, FBI Special Agent in Charge Daphne Hearn, San Diego City Councilmember Marti Emerald, Masjid Al Huda youth leader Noor Abdi, and Jim Laslavic of NBC News.
We would like to thank those who sponsored the Fair with monetary and in-kind contributions and discounts: United Domestic Workers, Bank of America, Gila Rut Aveda Salons, 858 Graphics, Inc., American Deli, An Angel's Creation Mobile DJ, City Heights Town Council, Costco, ESPN, Minehaha Food Market, Muna Halal Market, Murphy's Market, and O's American Kitchen.
We would also like to recognize and thank our Roundtable partners: Rhoda Abdi (211 San Diego), Marquez Equalibria (Community Relations Service, Department of Justice), Abdirizak Farah (Department of Homeland Security, Office for Civil Rights and Civil Liberties), Sahra Abdi and Abdiweli Heibeh (East African Community and Cultural Center), Daphne Hearn, Erin MacKinnon, Anita Meyer and Emily Yeh (FBI), Patrick Hunter (FBI Citizens' Academy Alumni Association), Abdi Mohamoud (Horn of Africa), Amina Farah (International Rescue Committee), Abdul Adan (Masjid-Al-Ansar), Sh. Mohamed Dahir (Masjid Al-Huda), Ahmed Malinomar (Metro Villa Apartments), Ramla Sahid (Mid-City Community Advocacy Network ), Mohamed Dad (Quest), Ahmedei Cheikgurei (San Diego County Health and Human Services Agency), Peter Callewaert and Corey McCoy (San Diego County Sheriff's Department), Patti Clayton, Cynthia Hanna, Muktar Hirsi and Asad Mohamed (San Diego Police Department, City of San Diego), Ayan Mohamed and Ahmed Sahid (Somali Family Service of San Diego), and Rahmo Abdi (Somali Youth United)

Event Calendar
No Events Scheduled

If you would like someone from the U.S. Attorney's Office to speak to your group on a public safety topic, please reach out to Director of Community Outreach Cindy Cipriani at (619) 546-9608. Speakers are available to deliver presentations on a wide variety of topics, including (but not limited to):
Anti-bullying/Cyber Bullying
Civil Rights and the United States Constitution
Contacts with Law Enforcement – What to Expect
Federal Criminal Justice System and the Course of a Criminal Case
Immigration Consequences of Criminal Convictions
Internet Crimes Against Children/On-line Safety
Hate Crimes
Human Labor Trafficking
Sex Trafficking/Exploitation of Children
Sex Trafficking/Exploitation of Adults
TSA – An Overview of Airport Security
U.S. Attorney's Office Mission and Responsibilities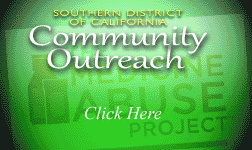 Learn about victim notification and rights, witness information, and helpful resources.