Two Mexican Mafia Members and 117 San Diego County Street Gang Members and Associates With Ties to the Mexican Mafia Charged with Racketeering Conspiracy, Drug-Trafficking Violations and Firearms Offenses
119 Individuals Charged in Three County-wide
Law Enforcement Operations
January 25, 2012
San Diego, CA - A federal grand jury in San Diego has handed up 17 indictments and the United States Attorney's Office for the Southern District of California has filed eight criminal complaints charging a total of 119 defendants with federal racketeering conspiracy, drug trafficking violations and federal firearm offenses, announced United States Attorney for the Southern District of California Laura E. Duffy.
United States Attorney Duffy said, "The cases unsealed today make communities stronger and safer. The United States Attorney's Office is committed to an anti-gang, anti-violence strategy built on close coordination between federal, state and local officials. This coordination provides better intelligence about street gangs and violent crime within our communities. And better intelligence means better law enforcement and prosecutions."
FBI Special Agent in Charge Keith Slotter commented, "Today's arrests mark one of the largest single takedowns in San Diego FBI history. The FBI and our law enforcement partners stand unified in our efforts to protect this county from the violence, drug trafficking, and extortion schemes employed by the Mexican Mafia and its affiliates. San Diego is inherently safer today because of the cooperation between our agencies working together to disrupt and dismantle the criminal activities of these dangerous individuals."
"This is a traditional case of dishonor amongst thieves," commented San Diego County Sheriff Bill Gore. "Gangs were made to pay 'taxes' in order to facilitate their trafficking and violent behavior. We answered with a one-two punch: a strong and experienced multi-agency investigation, armed with the RICO statute. The results speak for themselves." The charges stem from three investigations entitled, "Operation Notorious County," "Operation Carnalismo," and "Operation 12-Step."
READ MORE...
Indictments
("Operation Notoriuos County"
)
("Operation Carnalismo"
)
("Operation 12-Step"
)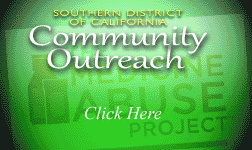 Learn about victim notification and rights, witness information, and helpful resources.