Updates on the Renovation of the Close-Hipp Building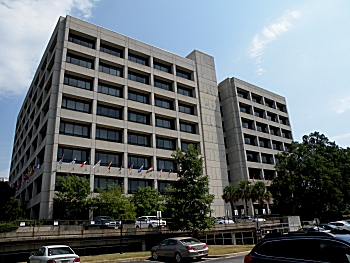 January 2011: The University of South Carolina has entered into an agreement with LS3P
architects to plan the renovations for the Close-Hipp Building. LS3P has partnered with Sasaki and Associates
to assist in the design.
LS3P has begun work on the project. On January 25, representatives of LS3P, the University of South Carolina, and the Department of Justice toured the Close-Hipp Building for an overall assessment of structural and mechanical systems. Over the next few weeks, LS3P will be meeting with EOUSA's Information Technology staff and the U.S. Attorneys Office in Columbia to discuss space needs for their operations.
Also, plans for the University's new Moore School of Business building continue to progress. Groundbreaking for that facility is tentatively scheduled for the Summer of 2011.
Photo: USC-Anne Helms