U.S. Attorney and Law Enforcement Partners Encourage Parents to "Take 25"
May 25, 2011
U.S. Attorney O'Neill Announces the Take 25 Campaign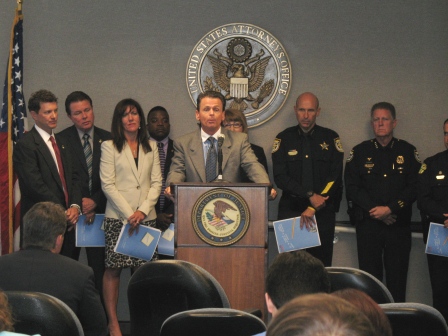 May 25th has been observed as national Missing Children's Day since it was observed in 1983. This date serves as an annual reminder that there are thousands of children who are still missing and stresses the importance of making child protection a national priority.
U.S. Attorney Robert E. O'Neill and representatives of several federal, state and local law enforcement agencies recently observed National Missing Children's Day today by convening (Orlando, FL) and announcing the national "Take 25" child safety campaign - highlighting the cooperative efforts among federal, state, and local agencies to prevent, enforce, and prosecute crimes of exploitation against children. The "Take 25" campaign is a national child safety public awareness campaign created in 2007 by the National Center for Missing and Exploited Children (NCMEC). This campaign encourages parents to take 25 minutes to talk to their children about safety and ways to prevent abduction.
The Department of Justice is committed to the safety and well-being of our children and has placed a high priority on protecting and combating the sexual exploitation of minors. In 2006, Project Safe Childhood was launched by the Department of Justice as a unified and comprehensive strategy to combat child exploitation by combining law enforcement efforts, community action, and public awareness. It marshals federal, state, and local resources to better locate, apprehend, and prosecute individuals, who exploit children via the internet, and to identify and rescue victims.
From October 1, 2009 through September 30, 2010, the U.S. Attorney's Office for the Middle District of Florida , with the close assistance of numerous federal, state, and local agencies, brought 70 Project Safe Childhood cases - the second highest of any district in the country. The charges in those cases vary by defendant, but they include conspiring to travel in interstate commerce to engage in illicit sexual conduct, production of child pornography, distribution and receipt of child pornography, and possession of child pornography. These cases were brought by each of the five offices of the Middle District of Florida.
NCMEC estimates that 10 percent of those depicted in commonly traded images are infants and toddlers, and 67 percent are prepubescent children. The goal of Project Safe Childhood is to reduce the incident of sexual exploitation of children.
Law enforcement agencies participating in the Orlando May 25th event included the Federal Bureau of Investigation; U.S. Immigration and Customs Enforcement's Homeland Security Investigations; the United States Secret Service; The United States Postal Inspection Service; the United States Marshals Service; the Florida Department of Law Enforcement; The Orange County Sheriff's Office; the Orlando Police Departmental, the Osceola County Sheriff's Office; the Polk County Sheriff's Office; and the Volusia County Sheriff's Office.
left-Take 25 Campaign Site
right-FDLE Special Agent-In-Charge Joyce Dawley Addresses the Attendees

| | |
| --- | --- |
| | |
left-U.S. Postal Inspection Service, Assistant Inspector-In-Charge Barney Morris and U.S. Attorney O'Neill

right-FDLE Special Agent-In-Charge Joyce Dawley Addresses the Attendees Volusia County Sheriff Ben Johnson, Orlando Deputy Chief Vince Citro and U.S. Attorney O'Neill

| | |
| --- | --- |
| | |

The Office of U.S. Attorney
A. Lee Bentley, III
Highlights
USA Activities in
the Middle District of Florida
Making sure that victims of federal crimes are treated with compassion, fairness and respect.
For VICTIM INFORMATION on the following cases:
EMG - Evolution Marketing Group
Gunter