U.S. Attorney Leads Discussion before Greater Tampa Chamber of Commerce
August 23, 2011
U.S. Attorney Robert E. O'Neill Leads Panel Discussion with the Greater Tampa Chamber of Commerce-
L/R-ASAC Ryan Lynch; SAC Steven Ibison, U.S. Attorney O'Neill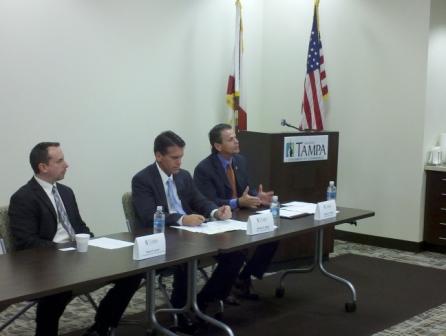 On August 23, 2011, U.S. Attorney Robert E. O'Neill led a panel discussion before the Greater Tampa Chamber of Commerce. The Chamber's Public Policy Forums are designed to discuss areas of interest within the regional business community. Though charted in Tampa Bay, this chamber boasts a membership of approximately 1,500, with several of its partners reporting business holdings throughout central Florida. This discussion, "Fighting Fraud: The Federal Perspective," provided business leaders and chamber members with an opportunity to understand the complexity of fighting both corporate and government fraud and how such practices impact the community at-large. Joined by Special Agent in Charge (FBI-Tampa) Steven Ibison and Assistant Special Agent in Charge (U.S. Department of Health and Human Services) Ryan Lynch, this panel addressed the various types of fraud frequently encountered and the application of resources and cooperation necessary to address the problem. Participants welcomed the interactive discussion - one commenting that this was the first time that such a discussion has occurred within the area chamber.
left-Tampa Chamber of Commerce President & CEO introduces U.S. Attorney O'Neill
right-Panel Members discussion with Chamber of Commerce attendees

| | |
| --- | --- |
| | |
left-Chamber of Commerce meeting
right-Tampa Chamber of Commerce President & CEO Rob Rohrlack, U.S. Attorney O'Neill, Senior Director of Public Policy Jerry Green, Director of Communications Felicia Harvey

| | |
| --- | --- |
| | |

The Office of U.S. Attorney
A. Lee Bentley, III
Highlights
USA Activities in
the Middle District of Florida
Making sure that victims of federal crimes are treated with compassion, fairness and respect.
For VICTIM INFORMATION on the following cases:
EMG - Evolution Marketing Group
Gunter