U.S. Attorney Announces Culmination of Operation Mirror Image

November 16, 2011
United States Attorney Robert E. O'Neill, Mark R. Trouville, Special Agent in Charge, U.S. Drug Enforcement Administration, Miami Field Division, and Baker County Sheriff Joey B. Dobson announced the culmination of an interstate drug trafficking investigation ("Operation Mirror Image") during a press conference at the Baker County Sheriff's Complex (Macclenny, Fl). Nine individuals were federally charged with drug conspiracy and trafficking-related charges as a result of the year-long investigation conducted by the Jacksonville DEA Task Force. The case involved approximately 160 kilograms of cocaine that were transported from Texas to Baker County, Florida and then distributed to individuals in Jacksonville, Florida.
DEA Assistant Special Agent in Charge Cam Strahm, U.S. Attorney Robert O'Neill, Baker County Sheriff Joey Dobson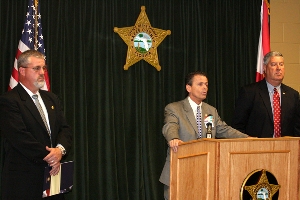 Map of Drug Trafficking Route From Texas to Florida

The Office of U.S. Attorney
A. Lee Bentley, III
Highlights
USA Activities in
the Middle District of Florida
Making sure that victims of federal crimes are treated with compassion, fairness and respect.
For VICTIM INFORMATION on the following cases:
EMG - Evolution Marketing Group
Gunter