Crack House Initiative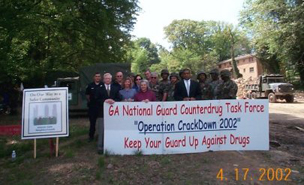 The district is committed to improving community quality life by getting rid of vacant and condemned houses that attract criminal activity. The district's Asset Forfeiture Unit has the full cooperation of the Atlanta Police Department (APD) and other local agencies in reducing the numbers of crack houses, apartment units, and other locations, such as flea market properties and motels, that facilitate drug trafficking, promote crime within neighborhoods, and cause neighborhood disintegration and destruction. The Asset Forfeiture Unit, through flexible and innovative approaches, contacts owners of properties involved in drug trafficking (many of whom are absentee owners) and explains the intent of the government to file forfeiture proceedings based upon the crimes that have occurred on the property. The Forfeiture Unit provides an opportunity for the owner to take reasonable and necessary steps to assist in stopping the criminal activity, and it is rarely forced to file a judicial forfeiture action against such a property.
Collaboration is the key to making the most effective use of sparse resources and to achieving removal of properties as crime dens. In May 2002, collaboration with the Georgia National Guard and other partners resulted in the removal of abandoned apartment buildings in which squatters dealt and used illegal drugs and from which shots had been fired into neighboring dwellings. Demolition of these derelict and abandoned buildings removed serious obstacles to neighborhood restoration.