The Criminal Division of the U. S. Attorney's Office is the largest of the Office's divisions. Over fifty personnel are assigned to the Criminal Division. AUSAs in the Criminal Division serve in six major units, which operate both separately and collaboratively, on all types of federal criminal cases:
Attorneys in the Criminal Division handle the investigation and prosecution of all types of federal crimes, ranging from petty offenses (including traffic and wildlife offenses) to complex white collar crime, federal homicides, drug trafficking, and public corruption cases.
General Crimes Unit
Prosecutors assigned to this unit work with the spectrum of federal investigative agencies (some twenty-five), including the Federal Bureau of Investigation (FBI), U. S. Customs Service, U. S. Postal Service, Drug Enforcement Administration (DEA), Bureau of Alcohol, Tobacco & Firearms, U. S. Marshal's Service, U. S. State Department, Secret Service, Naval Criminal Investigative Service (NCIS), U. S. Department of Agriculture, U. S. Department of Education, U. S. Department of Housing and Urban Development (HUD), U. S. Department of Labor/Office of Labor-Management Standards, Internal Revenue Service (IRS), Immigration and Naturalization Service (INS), Border Patrol, Railroad Retirement Board, Securities Exchange Commission (SEC), Small Business Administration, and Social Security Administration (SSA), among others.
The members of this unit routinely handle the investigation and prosecution of a broad range of federal criminal violations, from minor offenses to the complex ones, such as disaster fraud resulting from Hurricane Katrina, oil spill fruad, identity theft, public corruption, credit card fraud, postal thefts, immigration and naturalization offenses, passport fraud, defense procurement fraud, food stamp violations, crimes occurring on government property, Customs violations, and others, to name a few.
The General Crimes Unit is additionally responsible for the prosecution and investigation of civil rights violations, federal elections violations, hate crimes, environmental crimes, child support enforcement, Violence Against Women Act cases and migratory waterfowl violations.
Financial & Computer Crimes Unit
The Financial Crimes Unit participates in the investigation and prosecution of financial crimes of all types, including financial institution crime, public corruption, health care fraud, bank fraud, computer fraud, institutional insurance fraud, large scale mail and wire fraud, criminal tax violations, and child pornography cases under the Project Safe Childhood initiative. Such complex financial crimes typically involve equally complex transactions, requiring long-term investigations which are man-hour and resource intensive. Moreover, members of this unit regularly work with many federal investigative agencies, including the FBI, U.S. Postal Service, IRS, and others.
Due to the priority level of white collar or financial crime within the United States Department of Justice, and the particularly vulnerable nature of many of its victims, the Financial Crimes Unit is on the cutting edge of a number of important investigative and prosecutive initiatives.
Drug Unit
Prosecutors in the Drug Unit work with federal criminal investigators to bring the higher echelons of drug trafficking organizations to justice. The Unit works with task forces of federal, state and local law enforcement agencies in applying the most advanced investigative technology available against drug trafficking organizations. These initiatives have resulted in increasingly complex and comprehensive federal prosecutions of narcotics traffickers in the District, which has been designated a Gulf Coast High Intensity Drug Trafficking Area (HIDTA).
The Office has in place an Organized Crime Drug Enforcement Task Force (OCDETF) program. OCDETF is one of the first multi-agency enforcement efforts to work in close coordination with federal prosecutors in the investigative stages of major cases involving violent drug gangs. The HIDTA and OCDETF approaches are reflected in cases involving extensive multi-agency investigations which require participation of prosecutors in case development, using wiretaps, telephone tolls, undercover operations, and other investigative techniques unique to federal law enforcement.
Violent Crime Unit
Prosecutors in the Violent Crime Unit continue to work with federal law enforcement agencies and federal task forces to suppress violent crime in the District. The tough federal statutes and penalties for criminal possession and use of firearms have enabled our office to send some of the District's most violent individuals to prison. In addition, federal prosecutions have been brought against bank robbers, carjackers, arsonists and others who use violent means to further criminal acts.
Organized Crime Strike Force Unit
The major focus for the Organized Crime Strike Force is the investigation and prosecution of traditional and non-traditional organized crime groups with a focus on international organized crime and corruption.
Appeals Unit
The Appeals Unit defends convictions and judgments obtained by the Office in the United States Court of Appeals for the Fifth Circuit, the federal appellate court overseeing cases in Mississippi, Louisiana, and Texas. Additionally, the Appeals Unit, in consultation with the Department of Justice, decides when to seek appellate review of trial level rulings adverse to the United States.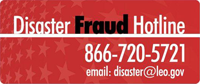 If you believe you have been a victim of fraud from a person or an organization soliciting relief funds on behalf of storm victims or have knowledge of waste, abuse, or allegations of mismanagement involving disaster relief operations, contact the National Center for Disaster Fraud toll free at: (866) 720-5721. You can also fax information to: (225) 334-4707 or e-mail it to: disaster@leo.gov