NEW ORLEANS MAN SENTENCED TO 57 MONTHS IN FEDERAL PRISON FOR HIS ROLE IN DRUG CONSPIRACY
January 29, 2010
EARL MEILLEUR, age 61, a resident of New Orleans, was sentenced yesterday in federal court by the U. S. District Judge Mary Ann Vial Lemmon to fifty-seven (57) months in prison for his role in a wide ranging drug conspiracy, announced U. S. Attorney Jim Letten. In addition, MEILLEUR was ordered to serve four (4) years supervised release during which time he will be under federal supervision and risks additional imprisonment should he violate any terms of the release.
According to court documents, MEILLEUR pled guilty on September 21, 2009 to a one count superceding bill of information charging him with conspiracy to possess with intent to distribute 500 grams or more of cocaine hydrochloride. According to court documents, from October 2007 until December 2008, MEILLEUR supplied his co-defendant Blair Arroyo with multiple kilograms of cocaine hydrochloride. Arroyo was recently sentenced to 15 years in prison after he pled guilty to conspiracy to distribute 500 grams or more of cocaine hydrochloride, possessing firearms in furtherance of this drug conspiracy, and having a prior felony drug conviction.
This case was the result of an Organized Crime Drug Enforcement Task Force (OCDETF) investigation involving the Drug Enforcement Administration and the New Orleans Police Department, assisted by the Louisiana State Police, Jefferson Parish Sheriff's Office, Bureau of Alcohol, Tobacco, and Firearms, Kenner Police Department, and St. Tammany Parish Sheriff's Office. OCDETF targets the most significant drug trafficking organizations within the United States as well as those outside of the United States.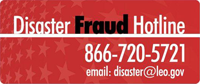 If you believe you have been a victim of fraud from a person or an organization soliciting relief funds on behalf of storm victims or have knowledge of waste, abuse, or allegations of mismanagement involving disaster relief operations, contact the National Center for Disaster Fraud toll free at: (866) 720-5721. You can also fax information to: (225) 334-4707 or e-mail it to: disaster@leo.gov