EX-S&WB MEMBER BENJAMIN EDWARDS GUILTY IN CORRUPTION PROBE
February 4, 2010
BENJAMIN L. EDWARDS, SR., age 56, a former member of the Board of Directors of the Sewerage and Water Board of New Orleans (S&WB) pled guilty today in federal court before U. S. District Judge Lance M. Africk to one count of wire fraud (Count 15 of the indictment) and one count of tax evasion (Count 33 of the indictment), announced United States Attorney Jim Letten.

According to the factual basis, EDWARDS admitted from February 1999 until December 11, 2009, he devised a scheme to defraud various businesses that performed work on behalf of the S&WB of money by means of false and fraudulent pretenses by the use of interstate wire transmissions. Documents filed into the record indicate that EDWARDS admitted asking Montgomery Watson Harza (MWH), James L. Jones Construction Company, and Fleming Construction Company to make "scholarship donations" to Third Shiloh Missionary Baptist Church (TSMBC), of which EDWARDS served as Reverend/Master, knowing that the money was not going to be used for students. The factual basis signed by EDWARDS also indicates that in the aftermath of Hurricane Katrina, he spoke with representatives of MWH regarding work that they were to perform in assisting the S&WB and the City of New Orleans with sewer inspections and debris cleanup. EDWARDS asked MWH to hire a company called Management Construction Consultant Incorporated (MCCI) in order to perform sewer inspections for the S&WB. EDWARDS and his brother, Bruce L. Edwards, Sr. misled MWH as to who actually controlled the company by placing sham officers onto MCCI paperwork to conceal the fact that EDWARDS and his brother were controlling the company. They also led MWH to believe that the company was a certified Disadvantaged Business Enterprise. EDWARDS attempted to negotiate an hourly rate on behalf of MCCI, and asked that MWH pay the company $120 per hour. MWH eventually agreed to pay MCCI $90 per hour and MCCI ultimately ended up paying the workers just $20 per hour.
Documents further indicate that MWH would wire funds from California to the MCCI bank account located in New Orleans at Liberty Bank and Trust. MCCI received nearly $3,000,000 from MWH. After receiving the funds, EDWARDS caused his brother, Bruce L. Edwards, Sr. to route approximately $1,600,000 from MCCI's account to EDWARDS's tax-exempt, non-profit TSMBC account. EDWARDS would then withdraw that money from the TSMBC account to facilitate the purchase of vehicles, fund political campaigns, and obtain items of value for himself, others, and his brother, Bruce L. Edwards, Sr.
By routing the money through the tax-exempt, non-profit TSMBC account, and using cashier's checks and cash to disguise the source of the funds, EDWARDS attempted to conceal this income from the Internal Revenue Service (IRS). EDWARDS admitted in court documents that he was guilty of tax evasion by failing to report nearly $1,700,000 in income during the tax year of 2005. Sentencing is set for May 13, 2010.
EDWARDS faces up to twenty (20) years imprisonment on the wire fraud count and up to five (5) years imprisonment on the tax evasion count. Additionally, EDWARDS faces a fine of up to $250,000.00 on each count, or up to twice any gain to the defendant or loss to victims, as well as up to three (3) years supervised release following any term of imprisonment.
In related cases, EDWARDS's brother, Bruce L. Edwards, Sr. pleaded guilty to wire fraud and tax evasion in a sealed court proceeding on December 2, 2009, prior to EDWARDS being indicted. He is set for sentencing before United States District Court Judge Jay C. Zainey on April 27, 2010. Also, Oliver C. Coleman, pleaded guilty to misprision of a felony in a sealed court proceeding on December 4, 2009, also prior to EDWARDS being indicted. He is set for sentencing before United States District Court Judge Lance M. Africk on Thursday, May 13, 2010.

Speaking to today's guilty plea, U. S. Attorney Letten stated:
"Our federal push to attack corruption wherever it exists has yielded yet another guilty plea of a public servant, Ben Edwards - marking the 3rd in this case. We will not tolerate abuse of our public institutions nor of our citizens, nor will we permit the abuses of those institutions - whether church, community or faith-based institutions or disadvantaged business enterprises - which must be protected to provide assistance to those especially in need. We will forge ahead with our commitment to eliminate corruption wherever it exists in our communities, our city, our state."
David W. Welker, FBI Special Agent in Charge added:
"I have commented in the past that I believe the citizens of New Orleans and Louisiana should be outraged when a public official uses their position to enrich themselves at the expense of the citizens. What is most reprehensible is when that occurs and the subject hides behind a church or charity reducing the credibility of the public office as well as that of the church or charity. The FBI will continue to identify criminal activity and follow the evidence of the crime regardless of the organization the criminal hides behind"
Special Agent in Charge Michael J. De Palma also stated:
"We are pleased with today's plea agreement. IRS Special Agents will continue to work with our law enforcement partners to develop sound financial investigations on individuals that use their position in government to benefit themselves to the detriment of those they serve. As filing season approaches, we want to assure those Americans who file accurate, honest and timely returns that the government will hold those who don't accountable."

The case was investigated by Special Agents of the Federal Bureau of Investigation and the Internal Revenue Service, Criminal Investigation Division. The case is being prosecuted by Assistant U. S. Attorneys Jon Maestri, Matthew Coman, and Matthew Chester.
(Download Factual Basis

)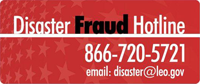 If you believe you have been a victim of fraud from a person or an organization soliciting relief funds on behalf of storm victims or have knowledge of waste, abuse, or allegations of mismanagement involving disaster relief operations, contact the National Center for Disaster Fraud toll free at: (866) 720-5721. You can also fax information to: (225) 334-4707 or e-mail it to: disaster@leo.gov