BANKER SENTENCED FOR EMBEZZLING MORE THAN $175,000
February 4, 2010
JEREMY J. RAYBURN, age 35, a resident of Baton Rouge, Louisiana, was sentenced in federal court today before United States District Court Judge Lance M. Africk to 18 months of imprisonment for one count of bank larceny, announced U. S. Attorney Jim Letten. In addition, Judge Africk ordered RAYBURN to be placed on three (3) years of supervised release following the term of imprisonment, during which time the defendant will be under federal supervision and risks an additional term of imprisonment should he violate any terms of his supervised release. RAYBURN has also been ordered to pay restitution in the amount of $178,224.80, which is the full amount of his embezzlement.

According to court documents, RAYBURN was employed as a personal banker at JP Morgan Chase Bank in Metairie, Louisiana, from May 1, 2006 through July 26, 2007. RAYBURN realized that he had the ability to identify bank customers whose accounts were on dormant status, because they were either deceased, or infrequently used. RAYBURN was then able to override this dormant status. RAYBURN then further devised a way to access and steal this money, in his position as a personal banker.
One particular customer, A.B., had been deceased for nearly 11 years, and RAYBURN decided to use this customer's account, as a central repository for stolen funds from other customer accounts. According to the factual basis, RAYBURN caused some of the following fraudulent transactions: a transfer of $64,404.40 from the account of a deceased customer with the initials, M.S. to deceased customer A.B.'s account; a transfer of $55,002.53 from customer H.B.'s account to deceased customer A.B.'s acccount; a transfer of $26,357.68 from customer C.R.'s account to deceased customer A.B.'s account; and a transfer of $14,453.48 from customer D.H.'s account to deceased customer A.B.'s account.
RAYBURN was able to transfer these funds from account to account, by making counter withdrawals and forging the customer signatures in order to generate cashier's checks. RAYBURN would then deposit these cashier's checks into A.B.'s acccount. RAYBURN then requested that three (3) ATM cards be issued on A.B.'s account and then made ATM cash withdrawals from A.B.'s account at JP Morgan Chase and other banks in and around the New Orleans area. During a thirty (30) day period in 2007, RAYBURN withdrew nearly $25,000 in cash from different ATM's located in the area.
RAYBURN sometimes used wire transfers to route money from A.B.'s account, to other accounts at other banks that RAYBURN controlled, including E-Trade. On June 6, 2008, RAYBURN transferred funds from various E-Trade accounts (funded by the customers' stolen money) into one account, and then wired $100,000 to a JP Morgan Chase account. On June 19, 2008, RAYBURN withdrew $103,501.12 from this same JP Morgan Chase account, in the form of a cashier's check. This cashier check was then used to pay a title company for a down payment on a home that RAYBURN purchased in Baton Rouge, Louisiana on the same day.
The case was investigated by the Special Agents of the Federal Bureau of Investigation. The prosecution is being handled by Assistant United States Attorney Jon Maestri.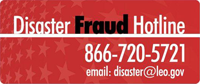 If you believe you have been a victim of fraud from a person or an organization soliciting relief funds on behalf of storm victims or have knowledge of waste, abuse, or allegations of mismanagement involving disaster relief operations, contact the National Center for Disaster Fraud toll free at: (866) 720-5721. You can also fax information to: (225) 334-4707 or e-mail it to: disaster@leo.gov