NEW ORLEANS MAN INDICTED FOR E-MAILING THREATENING COMMUNICATIONS
February 5, 2010
ASHTON R. O'DWYER, JR., age 62, a resident of New Orleans, Louisiana, was charged in a one-count indictment today by a federal Grand Jury with e-mailing threatening communications, announced U. S. Attorney Jim Letten.
According to the previously filed complaint, O'DWYER's arrest on January 29, 2010, was preceded by an escalating course of conduct, which culminated in a threat to U. S. Bankruptcy Judge Brown and individuals at the United States Courthouse, specifically, an electronic communication to the United States Bankruptcy Court for the Eastern District of Louisiana.
After his arrest on January 29, 2010, O'DWYER made an initial appearance before U. S. Magistrate Judge Daniel E. Knowles, III. On February 1, 2010, U.S. Magistrate Judge Louis Moore, Jr. ordered O'DWYER detained. He has been remained in custody. If convicted, O'DWYER faces a maximum term of imprisonment of five (5) years, a fine of $250,000, and three (3) years of supervised release following any term of imprisonment.
Speaking to today's indictment, U. S. Attorney Letten stated:
"The arrest and subsequent indictment of this individual on federal felony threat charges should serve as an unmistakable signal of our absolute commitment to use federal laws to ensure the safety of our citizens and those who serve our institutions - and as a warning to those who would contemplate threats of violence to achieve personal goals. My thanks go out to the Special Agents of the FBI who so vigorously responded and effected the defendant's apprehension, and to our Assistant U. S. Attorneys and support personnel who worked with them tirelessly."
U. S. Attorney Letten reiterated that an indictment is merely a charge and that the guilt of the defendant must be proven beyond a reasonable doubt.
The investigation is being conducted by Special Agents of the Federal Bureau of Investigation. The case is being prosecuted by Assistant U. S. Attorney Gregory M. Kennedy.
(Download Indictment

)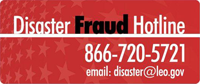 If you believe you have been a victim of fraud from a person or an organization soliciting relief funds on behalf of storm victims or have knowledge of waste, abuse, or allegations of mismanagement involving disaster relief operations, contact the National Center for Disaster Fraud toll free at: (866) 720-5721. You can also fax information to: (225) 334-4707 or e-mail it to: disaster@leo.gov