NEW ORLEANS MEN FACE SUPERSEDING INDICTMENT FOR CARJACKING AND FEDERAL GUNS CHARGES
February 19, 2010
JESSE SCOTT, age 20 and DEMETRIUS WILLIAMS, age 19, residents of New Orleans, were charged yesterday in a superseding indictment with six counts of carjacking and conspiring to use firearms during federal crimes of violence, announced U. S. Attorney Jim Letten.
According to the superseding indictment, SCOTT and WILLIAMS, along with two other juveniles who have already pleaded guilty, committed a series of carjackings in the Greater New Orleans area in 2007 and 2007.
SCOTT is charged with conspiring to use firearms during federal crimes of violence, specifically two carjackings that occurred on July 21, 2006, the first in Jefferson Parish and the second in Orleans Parish. In the first incident, SCOTT, along with two other juveniles, is charged with the carjacking of an eighty-seven-year-old woman, who returned to her home in Jefferson in her 2001 Nissan Sentra and was accosted at gun-point and threatened unless she gave up the keys to her vehicle. Shortly thereafter, SCOTT, along with the juveniles, crashed the Sentra in New Orleans and then carjacked a 1997 Chevy Malibu belonging to a twenty-five-year-old woman who was getting off work and who was also threatened at gun-point.

SCOTT is also named in a separate count with a November 15, 2006 carjacking of a man who was arriving home, with his eighteen-month-old infant in the back seat of his Acura TSX, in the Carrolton area of New Orleans, where SCOTTallegedly confronted him with a hand gun and highjacked his car.
WILLIAMS is additionally charged in a separate March 17, 2007 carjacking of a 2002 Honda Civic from a teenage couple in Jefferson Parish. WILLIAMS also faces a count of conspiracy to use a firearm during a carjacking.
If convicted of the conspiracy each defendant faces a maximum of fifteen (15) years of imprisonment on the conspiracy count and a maximum of twenty (20) years of imprisonment on the on the carjacking count.
The case was investigated by the Federal Bureau of Investigation. The case is being prosecuted by Assistant United States Attorneys, Michael E. McMahon and Sean Toomey.

(Download Superseding Indictment

)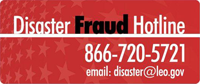 If you believe you have been a victim of fraud from a person or an organization soliciting relief funds on behalf of storm victims or have knowledge of waste, abuse, or allegations of mismanagement involving disaster relief operations, contact the National Center for Disaster Fraud toll free at: (866) 720-5721. You can also fax information to: (225) 334-4707 or e-mail it to: disaster@leo.gov