BOOKKEEPER SENTENCED TO OVER 3 YEARS IN FEDERAL PRISON FOR THEFT OF $1.9 MILLION DOLLARS
March 10, 2010
DIANN TALLIEU, age 58, a resident of Gretna, Louisiana, was sentenced today in federal court by U. S. District Judge Kurt Engelhardt to forty-one (41) months in prison for wire fraud relating to the theft of $1.9 million dollars from her employer, announced U. S. Attorney Jim Letten. Additionally, TALLIEU was ordered to pay $1,905,949.50 in restitution as well as serve three (3) years of supervised release following the term of imprisonment during which time she will be under federal supervision and risks additional imprisonment should she violate any terms of her supervised release.
According to court documents, on December 1, 2009, TALLIEU pled guilty admitting that she was employed as a bookkeeper by a local retail establishment, and in that position, she had authority to sign checks from a designated checking account and was responsible for maintaining the company's books, financial records, and paying small bills. From 2001 to 2008, TALLIEU systematically embezzled $1,905,949.50 by depositing customer checks into the checking account instead of the store's operating account. Once these checks were deposited, TALLIEU would then write checks made payable to cash and negotiate them, or write checks to herself and deposit them into her personal checking account. She would also make electronic funds payments from the checking account to her various credit cards.
The matter was investigated by the U.S. Secret Service, and was prosecuted by Assistant U. S. Attorneys Spiro Latsis.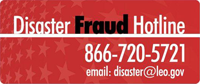 If you believe you have been a victim of fraud from a person or an organization soliciting relief funds on behalf of storm victims or have knowledge of waste, abuse, or allegations of mismanagement involving disaster relief operations, contact the National Center for Disaster Fraud toll free at: (866) 720-5721. You can also fax information to: (225) 334-4707 or e-mail it to: disaster@leo.gov