FORMER HANO OFFICIAL SENTENCED FOR THEFT OF FUNDS FROM SECTION-8 VOUCHER PROGRAM
March 10, 2010
DWAYNE D. MUHAMMAD, age 37, a resident of New Orleans, was sentenced today in federal court by U. S. District Judge Sarah S. Vance to eight (8) months in prison and eight (8) months home incarceration for theft of federal funds from the Housing Authority of New Orleans, a program that receives federal funding from the Department of Housing and Urban Development, announced U.S. Attorney Jim Letten. Additionally, Judge Vance ordered the defendant to pay $45,318.00 in restitution, and serve three (3) years supervised release during which time he will be under federal supervision and risks additional imprisonment should he violate any terms of the supervised release.
According to court documents, on December 2, 2009, MUHAMMAD pled guilty admitting that beginning in January 2007 and continuing to August 28, 2009, MUHAMMAD lived at 4739 Western Street, New Orleans, LA, a residence that was receiving a Section-8 voucher of approximately $1,400 a month. During this time period, MUHAMMAD was an agent of HANO working specifically in the Section 8 voucher program, and from November of 2007 through August 28, 2009, served as the Chief Operating Officer of the Housing Choice Voucher Program. In his tenure as COO, he made an average salary of over $100,000, which exceeded the income eligibility limits for a Section 8 subsidy. The total loss to the government is $45,318.
The U. S. Attorney offers the gratitude of our partners in federal enforcement, to investigative reporter Lee Zurik and to WWL TV whose August, 2009 report directly resulted in the federal investigation which yielded today's conviction. Moreover, we acknowledge once again the important contribution made by members of the press corps in the region in exposing corruption which threatens the quality of life of all of our citizens.
The case was investigated by Special Agents of the Department of Housing and Urban Development, Office of Inspector General and the Federal Bureau of Investigation. The prosecution is being handled by Assistant U. S. Attorneys Sharan E. Lieberman and Matthew M. Coman.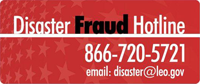 If you believe you have been a victim of fraud from a person or an organization soliciting relief funds on behalf of storm victims or have knowledge of waste, abuse, or allegations of mismanagement involving disaster relief operations, contact the National Center for Disaster Fraud toll free at: (866) 720-5721. You can also fax information to: (225) 334-4707 or e-mail it to: disaster@leo.gov