SUBCONTRACTOR SENTENCED FOR CONSPIRACY TO BRIBE STATE OFFICIAL
March 11, 2010
HARRY JOSEPH LABICHE, JR., age 69, of Metairie, Louisiana, a plumbing subcontractor on the I-10 highway construction project, was sentenced today by United States District Judge Mary Ann Vial Lemmon to twenty-seven (27) months imprisonment for conspiracy to bribe a state official in connection with a program receiving federal funds announced United States Attorney Jim Letten. In addition, the defendant was ordered to serve two (2) years supervised release during which time he will be under federal supervision and risks additional imprisonment should he violate any terms of the release.
The defendant had faced a maximum term of imprisonment of five (5) years, a fine of $250,000.00, and up to three (3) years of supervised release following any term of imprisonment. However, the Government filed a motion with the Court asking for a lesser sentence in recognition of LABICHE's cooperation in the investigation of the matter. The defendant has already paid full restitution in the amount of $200,000.
LABICHE had been charged along with co-defendants Jeffery Martin Bentley, a/k/a Jeff Bentley, age 52, a former employee of the Louisiana Department of Transportation and Development and de facto project engineer on a project for widening and improvements to the Interstate 10 highway in Jefferson Parish, Louisiana, Albert F. Andre Jr., a/k/a Buddy Andre, age 53, and Jason Adrian Guy, age 38, both former employees of the prime contractor, in a one-count bill of information. All four defendants pleaded guilty on October 15, 2009.
According to court Documents, Bentley, Andre, Guy and LABICHE agreed that inflated invoices for pipe cleaning on The I-10 Project would be submitted by LABICHE's plumbing company to Company A, identified as the prime contractor on The I-10 Project, and when paid, the four defendants would share in the proceeds. The Bill of Information charged that LABICHE submitted to Company A a total of $323,422.55 in invoices for pipe cleaning allegedly performed. In fact, the value of the pipe cleaning work actually performed on the I-10 Project by LABICHE's company was no more than $28,837.00, and multiple invoices were submitted for pipe cleaning work on The I-10 Project, billing for work which was never performed. Other court documents identified the prime contractor on the I-10 Project as Boh Brothers Construction Company, Inc.
The remaining three defendants are scheduled for sentencing before Judge Mary Ann Vial Lemmon on Thursday, April 22, 2010.
The case was investigated by the Federal Bureau of Investigation and the Louisiana State Police. The case was prosecuted by Assistant U. S. Attorney Eileen Gleason.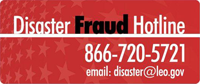 If you believe you have been a victim of fraud from a person or an organization soliciting relief funds on behalf of storm victims or have knowledge of waste, abuse, or allegations of mismanagement involving disaster relief operations, contact the National Center for Disaster Fraud toll free at: (866) 720-5721. You can also fax information to: (225) 334-4707 or e-mail it to: disaster@leo.gov