NEW ORLEANS WOMAN PLEADS GUILTY TO FRAUDULENT USE OF SOCIAL SECURITY NUMBER AND FALSE CLAIMS
March 17, 2010
SONJA T. JONES, age 42, a resident of New Orleans, Louisiana, pled guilty in federal court today before U. S. District Judge Sarah S. Vance to one count of fraudulent use of a Social Security Number and one count of false claims relating to fraudulent Federal Emergency Management Agency (FEMA) claims, announced U. S. Attorney Jim Letten.
According to court documents, FEMA provided disaster assistance money to those affected by Hurricanes Katrina and Rita, including rental housing assistance and housing replacement assistance. JONES admitted today that she submitted over twenty applications to FEMA for Hurricane Katrina and Hurricane Rita disaster relief funds, using her own name but the property addresses and social security numbers of others. In order to mislead FEMA, she submitted false addresses and false documentation to make it appear that she lived at those false addresses at the time of the storm, when in fact she had never been a resident at the property addresses she claimed. As a result of JONES's representations, FEMA sent JONES eighteen checks by U.S. mail to her temporary addresses in Dublin, Georgia. JONES deposited the checks and withdrew cash from different bank accounts in Georgia. In total, JONES received $41,216 from FEMA which she was not entitled to.
JONES faces a possible maximum sentence of five (5) years imprisonment, a $250,0000 fine, three (3) years supervised release, and restitution as to each count. Sentencing has been scheduled for June 16, 2010.
The case was investigated by the Department of Homeland Security, Office of Inspector General and was indicted and investigated in the Southern District of Georgia, Dublin Division. Subsequently, it was transferred to the Eastern District of Louisiana. The prosecution and guilty plea are being handled by Assistant United States Attorney Sharan E. Lieberman from the Eastern District of Louisiana and was initiated and investigated by Assistant United States Attorney Frederick Kramer from the Southern District of Georgia.

(Download Factual Basis

)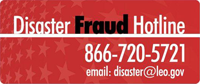 If you believe you have been a victim of fraud from a person or an organization soliciting relief funds on behalf of storm victims or have knowledge of waste, abuse, or allegations of mismanagement involving disaster relief operations, contact the National Center for Disaster Fraud toll free at: (866) 720-5721. You can also fax information to: (225) 334-4707 or e-mail it to: disaster@leo.gov