FORMER GRETNA CITY COUNCILMAN JONATHAN BOLAR CONVICTED BY FEDERAL JURY
April 9, 2010
JONATHAN BOLAR, age 47, former City Councilman for District 1 in Gretna, was convicted today by a federal jury following a 5 day trial of Hobbs Act extortion (4 counts), wire fraud (2 counts), failure to file income tax returns (4 counts), and structuring financial transactions to evade a federally mandated reporting requirement (3 counts), announced U. S. Attorney Jim Letten.
According to the evidence introduced at trial, BOLAR extorted three individuals in his city council district to pay him nearly $100,000 in exchange for his support of zoning variances on properties. BOLAR also attempted to extort a fourth individual. Additionally, the jury found that BOLAR willfully failed to file tax returns for the years 2003, 2004, 2005, and 2006. The jury also found that BOLAR structured certain financial transactions in order to evade a federally mandated reporting requirement in that on several occasions, he made cash deposits in a manner designed to avoid requiring the banks from reporting the transactions to the federal government, as would normally be required by law. Also, the evidence proved that BOLAR accepted $3,750.00 in earnest money from the Franklin Street Church of Christ on August 3, 2008, entering into an agreement to sell a property located at 400 Franklin Street in Gretna. BOLAR had previously sold the property nearly10 months before, on October 8, 2007, relinquishing any and all rights he may have had in the property at that time; and later, on August 21, 2008, BOLAR also entered into an agreement with another prospective buyer, accepting $11,250.00 from a family as earnest money on the same property at 400 Franklin Street.
After an additional hearing, the jury found that BOLAR should forfeit all of the assets connected with his crimes.
BOLAR faces a possible maximum penalty of 139 years in prison and $2,650,000 in fines and $87,700 in forfeiture.
Speaking to today's verdict, U. S. Attorney Letten stated, "Today, a federal jury convicted yet another corrupt Louisiana public service of numerous serious federal crimes as a result of former Councilman Jonathan Bolar's greed, arrogance, deceit, and disregard for the public trust required of public servants. As we continue to forge ahead and change the landscape of Louisiana by building honest government responsible to our citizens, we will never stand down or waiver, but will aggressively seek out and prosecution corruption wherever it exists for the protection of our people."
David Welker, Special Agent in Charge, Federal Bureau of Investigation, added, "Once again, as with other corrupt public officials before him, Mr. Bolar demonstrated an outrageous abuse of his position and violated the public trust, solely for his own enrichment and benefit. It is refreshing to see people feel empowered to come forward to report Mr. Bolar's actions to assist law enforcement in ridding the system of this public corruption cancer!"
"We are extremely pleased with the jury's verdict and thank them for their time and service to our community," said Michael J. DePalma, Special Agent in Charge of the New Orleans Field Office of IRS Criminal Investigations. "Special Agents of IRS CI have become crucial members of the team of public servants that have devoted their time, talent and commitment to rid our community of those that are elected to be community leaders only to become common criminals. Along with our federal, state and local law enforcement partners, we will remain steadfast in our commitment to investigate those that violate the public's trust."
The case was investigated by the Federal Bureau of Investigation, the Internal Revenue Service, the Gretna Police Department, and the United States Attorney's Office. The case is being prosecuted by Assistant United States Attorneys Matthew M. Coman, Richard Pickens and Sharan Lieberman.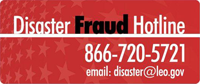 If you believe you have been a victim of fraud from a person or an organization soliciting relief funds on behalf of storm victims or have knowledge of waste, abuse, or allegations of mismanagement involving disaster relief operations, contact the National Center for Disaster Fraud toll free at: (866) 720-5721. You can also fax information to: (225) 334-4707 or e-mail it to: disaster@leo.gov