CIVILIAN PLEADS GUILTY IN DANZIGER BRIDGE CASE
April 28, 2010
Defendant David Ryder, a convicted felon who was posing as a police officer on the day of the Danziger Bridge shooting on September 4, 2005, pled guilty today in federal court to lying to a federal agent and to illegally possessing a firearm, announced Jim Letten, the United States Attorney for the Eastern District of Louisiana; Tom Perez, the Assistant Attorney General for the Civil Rights Division of the U. S. Department of Justice; and David Welker, the Special Agent in Charge of the New Orleans Field Office of the Federal Bureau of Investigation.
The guilty plea is in connection with the federal probe into a police-involved shooting that occurred on the bridge in the days after Hurricane Katrina. The shooting left two civilians dead and four others severely wounded.
Ryder admitted in court today that he lied to an FBI agent when he provided a statement about events he had witnessed leading up to the deadly shooting on the bridge. Ryder also admitted that at the time of the shooting, he was carrying a gun even though he was legally prohibited from doing so because he was a convicted felon.
According to his statement in court today, Ryder, who was on the I-10 high rise bridge on the morning of September 4, 2005, had falsely claimed during an interview with the FBI, that one of the people he had previously described as running away from the high rise bridge in the direction of the Danziger Bridge, had fired at him as he ran after them through a trailer park. Today, in United States District Court, Ryder admitted that his statement to the FBI was a lie.
Ryder also admitted today that, after the shooting incident, he returned with NOPD officers to a makeshift police station, where he falsely identified a man in handcuffs as one of the people who had shot at the I-10 bridge. Ryder also admitted today that he testified falsely, under oath, to a state grand jury investigating the Danziger Bridge incident.
Ryder faces a possible maximum sentence of fifteen years in prison and a fine of $500,000.

This case, which is ongoing, is being investigated by the New Orleans Field Office of the FBI, and is being prosecuted by Deputy Chief Bobbi Bernstein and Trial Attorney Forrest Christian of the Justice Department's Civil Rights Division, along with Assistant U.S. Attorney Julia K. Evans for the Eastern District of Louisiana. No further details or information will be made available at this time.
(Download Factual Basis

)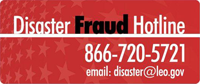 If you believe you have been a victim of fraud from a person or an organization soliciting relief funds on behalf of storm victims or have knowledge of waste, abuse, or allegations of mismanagement involving disaster relief operations, contact the National Center for Disaster Fraud toll free at: (866) 720-5721. You can also fax information to: (225) 334-4707 or e-mail it to: disaster@leo.gov