SHERIFF'S DEPUTY AND TAX-PREPARER INDICTED FOR DEFRAUDING GOVERNMENT
May 6, 2010
TAMARA SCOTT-LANDRY, age 36, and WARREN S. LEBEAUF, JR. age 42, both residents of St. Charles Parish, were charged in an 88 count indictment by a Federal Grand Jury, announced U. S. Attorney Jim Letten. Specifically, each defendant was charged with one count of conspiracy to defraud the United States by filing false and fraudulent tax returns in the names of prison inmates, and SCOTT-LANDRY was charged with an additional 87 counts including filing false claims, wire fraud and aggravated identity theft.
According to the indictment, SCOTT-LANDRY was engaged in the business of filing tax returns. LEBEAUF was a lieutenant with the St. Charles Parish Sheriff's Office. The indictment alleges that LEBEAUF abused his position and authority by causing prison inmate names to be run through the Louisiana Law Enforcement Telecommunications System (LLETS) in order to get personal information such as social security numbers and dates of birth. This information was then provided to SCOTT-LANDRY for the purpose of filing fraudulent tax returns and receiving tax refunds in an amount totaling approximately $810,183.00.
If convicted, SCOTT-LANDRY and LEBEAUF each face a possible maximum term of imprisonment of ten (10) years, a fine of $250,000.00 and three (3) years of supervised release following any term of imprisonment; SCOTT-LANDRY faces a maximum term of imprisonment of five (5) years for each of the 29 counts of filing false tax returns; twenty (20) years for each of the 29 counts of wire fraud, and a mandatory two (2) years to run consecutive to any sentence received for the counts of aggravated identity theft. Additionally, SCOTT-LANDRY also faces a $250,000 fine for each count, and five (5) years of supervised release.

"IRS Criminal Investigation stands ready to investigate anyone who would put a taxpayer at risk for a quick profit," stated Michael J. DePalma, Special Agent in Charge of New Orleans Field Office, IRS Criminal Investigations. "Our special agents used their investigative and financial expertise to detect and hold accountable abusive tax return preparers who prepare returns which yield inflated and false refunds that the taxpayer is not entitled to receive."
U. S. Attorney Letten and Special Agent in Charge DePalma as well as the investigative and prosecution team, offer their thanks to Sheriff Greg Champagne and the St. Charles Parish Sheriff's Office for providing valuable assistance in this investigation and their outstanding law enforcement partnership..
U. S. Attorney Letten also reiterated that the indictment is merely a charge and that the guilt of the defendant must be proven beyond a reasonable doubt.
The case is being investigated by the Internal Revenue Service and is being prosecuted by Assistant United States Attorneys G. Dall Kammer and Jon Maestri.
(Download Indictment

)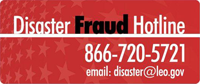 If you believe you have been a victim of fraud from a person or an organization soliciting relief funds on behalf of storm victims or have knowledge of waste, abuse, or allegations of mismanagement involving disaster relief operations, contact the National Center for Disaster Fraud toll free at: (866) 720-5721. You can also fax information to: (225) 334-4707 or e-mail it to: disaster@leo.gov