HAMMOND MAN SENTENCED TO 14 MONTHS IN FEDERAL PRISON FOR WEAPONS VIOLATION
May 12, 2010
RAMON ZUNIGA-QUEZADA, age 26, a resident of Hammond, Louisiana, was sentenced today in federal court by U. S. District Judge Helen G. Berrigan to fourteen (14) months in prison for being an illegal immigrant in possession of firearms as well as possessing a firearm not registered to him in the National Firearms Registration and Transfer Record, announced U. S. Attorney Jim Letten. In addition to the term of imprisonment, Judge Berrigan ordered that ZUNIGA-QUEZADA be placed on three (3) years of supervised release following the term of imprisonment, during which time the defendant will be under federal supervision and risks an additional term of imprisonment should he violate any terms of his supervised release.
Court documents show on February 3, 2010, ZUNIGA-QUEZADA pled guilty to a two count indictment. According to the factual basis filed into the record at the time of the plea,, Immigration & Customs Enforcement received information regarding an illegal immigrant residing in the Hammond area. During the subsequent investigation, ICE Special Agents and Tangipahoa Parish Sheriff Deputies were able to obtain a recorded phone conversation in which ZUNIGA-QUEZADA admitted to storing several firearms at a former residence from which he had just moved. Deputies searched ZUNIGA-QUEZADA's former residence and discovered five firearms which had been hidden under the floorboards, including a sawed-off Remington 870 shotgun which federal law required to be registered. ZUNIGA-QUEZADA failed to register the weapon. ICE Special Agents also confirmed that ZUNIGA-QUEZADA was a Mexican citizen who had never legally entered the United States.
The case was investigated by Special Agents with the Immigrations & Customs Enforcement and the Bureau of Alcohol, Tobacco, Firearms and Explosives, as well as deputies from the Tangipahoa Parish Sheriff's Office. The case was prosecuted by Assistant United States Attorneys Rick Veters and Rob Weir.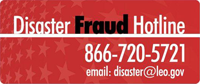 If you believe you have been a victim of fraud from a person or an organization soliciting relief funds on behalf of storm victims or have knowledge of waste, abuse, or allegations of mismanagement involving disaster relief operations, contact the National Center for Disaster Fraud toll free at: (866) 720-5721. You can also fax information to: (225) 334-4707 or e-mail it to: disaster@leo.gov