REAL ESTATE INVESTOR PLEADS GUILTY TO MAIL FRAUD
May 26, 2010
MICHAEL B. SMUCK, age 61, of Metairie, Louisiana, pled guilty in federal court today before U. S. District Judge Lance N. Africk to mail fraud, announced United States Attorney Jim Letten.
According to court documents, SMUCK owned and operated MBS Realty Investors, LTD and MBS Management Services, Inc. located at One Galleria Blvd, Suite 1950, Metairie, LA. One of the real estate investment partnerships operated by SMUCK, MBS Realty Investors, LTD and MBS Management Services, Inc. was called MBS-Briar Meadows, LTD which owned an apartment community in Houston, TX. Beginning on or about May 30, 2007 and continuing until on or about September 29, 2007, SMUCK devised a scheme to defraud in order to obtain approximately $3,477,980.00 in investor property to pay company debts unrelated to the Briar Meadows partnership.
SMUCK sold the property known as Briar Meadows and misappropriated the funds from the sale to pay other company debts rather than disburse those sale proceeds to the investors of Briar Meadows. SMUCK continued to send documentation to investors in Briar Meadows in order to give the fictitious appearance that the investment property was still active.
Pursuant to the plea agreement entered into by the parties, SMUCK faces a term of imprisonment of 30 months and a $250,000.00 fine. In an effort to make the victims of this crime whole, the United States has secured from the defendant an agreement to pay a minimum of $3, 299,480 in restitution to investors in both Briar Meadows and Yellowstone Ranch, which are apartment communities in Houston, TX.
United States Attorney Jim Letten has acknowledged that the stipulated sentence in the plea agreement was the result of careful and lengthy consideration by the prosecution team, which included the recognition of the recommended sentencing guidelines range, as well as recognition of the goal of securing, to the extent possible, restitution to the victims. Sentencing is set for September 2, 2010 at 2:00 P.M.
The case is being investigated by the United States Postal Inspection Service and the Federal Bureau of Investigation. The case is being prosecuted by Assistant United States Attorney G. Dall Kammer.
(Download Factual Basis

)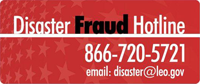 If you believe you have been a victim of fraud from a person or an organization soliciting relief funds on behalf of storm victims or have knowledge of waste, abuse, or allegations of mismanagement involving disaster relief operations, contact the National Center for Disaster Fraud toll free at: (866) 720-5721. You can also fax information to: (225) 334-4707 or e-mail it to: disaster@leo.gov