FORMER CHIEF FINANCIAL OFFICER CHARGED WITH FEDERAL SECURITIES CRIMES
May 27, 2010
BARTHOLOMEW FRANK PALMISANO, Jr., a/k/a Bart Palmisano, Jr., age 39, a resident of Metairie, Louisiana, was charged today in a two count bill of information with falsifying corporate books and records and lying to auditors and accountants of a publicly-traded company, announced U. S. Attorney Jim Letten.
According to the bill, from 1998 through 2001, PALMISANO, was employed as the Chief Financial Officer of Orthodontic Centers of America, Inc. (OCA), a publicly-traded company formerly based in Metairie, Louisiana. During that time period, the defendant entered over a dozen accounting entries into the Company's accounting system that increased the Company's revenues while simultaneously increasing its assets. In 2005, these accounting entries were uncovered. The bill alleges that after learning accountants were reviewing and testing these suspicious transactions, the defendant covered up the entries by concocting a fictitious story to explain them and fabricating documents to support that story.

It is also alleged that the defendant wrongfully accessed the Company's accounting database and manipulated the underlying accounting entries, as well as other accounting entries, to make it appear as if the original entries had been entered by the deceased employee and that they had been reversed. According to the Bill of Information, the original accounting entries had not been reversed shortly after they were made, but remained in OCA's books and records until altered by PALMISANO in 2005.
If convicted PALMISANO faces a maximum penalty of twenty (20) years imprisonment, three (3) years supervised release, and a $5,000,000 fine as to each count.
U. S. Attorney Letten reiterated that a Bill of Information is merely a charge and that the guilt of the defendant must be proven beyond a reasonable doubt.
The case is being investigated by the Federal Bureau of Investigation. The prosecution is being handled by Assistant U. S. Attorneys Matt Chester and Eileen Gleason.
(Download Bill of Information

)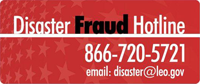 If you believe you have been a victim of fraud from a person or an organization soliciting relief funds on behalf of storm victims or have knowledge of waste, abuse, or allegations of mismanagement involving disaster relief operations, contact the National Center for Disaster Fraud toll free at: (866) 720-5721. You can also fax information to: (225) 334-4707 or e-mail it to: disaster@leo.gov