MISSISSIPPI MAN SENTENCED FOR DEFRAUDING LOUISIANA ROAD HOME PROGRAM
June 3, 2010
WAYNE L. MANNING, age 55, a resident of Carriere, Mississippi, was sentenced in federal court today before U.S. District Judge Carl J. Barbier to (5) five years probation, after pleading guilty to one count of making false statements to a federal agency relating to a fraudulent application he made to the Louisiana Road Home Program for financial assistance during the aftermath of Hurricane Katrina, announced U. S. Attorney Jim Letten. In addition, MANNING has been ordered to pay $64,959.48 in restitution to the Louisiana Road Home Program. MANNING was ordered to pay $5,000 immediately and $500 per month until the entire amount is satisfied.
According to court documents, the Louisiana Road Home Program made disaster assistance money of up to $150,000 available to those whose primary residence was destroyed by Hurricanes Katrina and Rita. MANNING applied for and received a Road Home grant of $64,959.48 for damages to commercial property located at 11130 Old Gentilly Road, New Orleans, LA, which he owned when Hurricane Katrina struck. MANNING fraudulently represented that he was a resident of the property at the time of the storm, when in fact, he was a resident of Carriere, Mississippi.
This case was brought as part of this District's partnership with the National Center for Disaster Fraud (NCDF), a nationwide initiative to protect available funds and assistance for those victims of both natural and man-made disasters such as hurricanes, floods, tornadoes and the recent Gulf oil spill. If you have knowledge of fraud, waste, abuse, or allegations of mismanagement involving disaster relief operations, you can contact the NCDF by either calling the hotline at (866) 720-5721, faxing the hotline at (225) 334-4707, emailing at disaster@leo.gov or in writing to National Center for Disaster Fraud, Baton Rouge, LA 70821-4909.
The case was investigated by the U.S. Department of Housing and Urban Development, Office of Inspector General and the Federal Bureau of Investigation. The case was prosecuted by Assistant U. S. Attorney Carter Guice.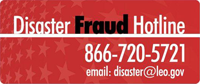 If you believe you have been a victim of fraud from a person or an organization soliciting relief funds on behalf of storm victims or have knowledge of waste, abuse, or allegations of mismanagement involving disaster relief operations, contact the National Center for Disaster Fraud toll free at: (866) 720-5721. You can also fax information to: (225) 334-4707 or e-mail it to: disaster@leo.gov