TWO NEW ORLEANS MEN PLEAD GUILTY TO FEDERAL DRUG AND GUN CHARGES
June 10, 2010
MICHAEL MINOR, age 21, and JIMMY ISAAC, age 22, residents of New Orleans, pled guilty yesterday in federal court before U. S. District Judge Stanwood Duval to conspiracy to possess with intent to distribute 1 kilogram or more of heroin, announced U. S. Attorney Jim Letten. ISAAC additionally pled guilty to possessing a firearm in furtherance of a drug trafficking offense.
On January 29, 2010, MINOR and ISAAC were charged in a superseding indictment with thirteen other individuals. According to the court documents, the investigation was rooted in the heroin trafficking activities of co-defendant William Stevenson in the B.W. Cooper Public Housing Development. Stevenson supplied ISAAC and MINOR with multiple "bundles" of heroin for distribution in the Housing Development. MINOR and ISAAC admitted to distributing over 1 kilogram of heroin in 2009 during the course of the conspiracy. ISAAC also admitted to possessing a firearm, specifically a .40 caliber firearm, while he sold heroin in the driveways of the B.W. Cooper public housing project.

Sentencing has been scheduled for on September 15, 2010. MINOR, who was also charged with having one prior felony drug conviction, faces a mandatory minimum of twenty (20) years up to a possible maximum of life imprisonment and at least ten (10) years supervised release. ISAAC faces a possible maximum of life imprisonment at least five (5) years supervised release. Stevenson and co-defendant Pinkey previously pled guilty and are awaiting sentencing. The remaining defendants are scheduled for trial on October 25, 2010 before Judge Stanwood Duvall.
The case was investigated by DEA in collaboration with the Gulf Coast High Intensity Drug Trafficking Task Force (HIDTA) and the Organized Crime Drug Enforcement Task Force (OCDETF).
The HIDTA Task Force is led by DEA and includes a team of dedicated investigators from the New Orleans Police Department and the Bureau of Alcohol Tobacco and Firearms. OCDETF is an important program which targets the most significant drug trafficking organizations within the United States, as well as those outside of the United States borders that impact drug trafficking within the United States. Also assisting in the enforcement operations were the Louisiana State Police, Jefferson Parish Sheriff's Office, Kenner Police Department, and St. Tammany Parish Sheriff's Office.
(Download Factual Basis

)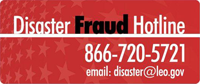 If you believe you have been a victim of fraud from a person or an organization soliciting relief funds on behalf of storm victims or have knowledge of waste, abuse, or allegations of mismanagement involving disaster relief operations, contact the National Center for Disaster Fraud toll free at: (866) 720-5721. You can also fax information to: (225) 334-4707 or e-mail it to: disaster@leo.gov