DRD TOWING COMPANY AND ITS OWNER CHARGED IN CONNECTION WITH OIL SPILL IN MISSISSIPPI RIVER
July 2, 2010
DRD TOWING COMPANY, LLC., a marine company located in Harvey, Louisiana, was charged today in a two-count Bill of Information for violating the Ports and Waterways Safety Act and the Clean Water Act, announced U. S. Attorney Jim Letten. In addition, RANDALL DANTIN, age 46, a resident of Marrero, Louisiana and co-owner of DRD TOWING was also charged today in a separate one-count Bill of Information with obstruction of justice.
Count 1 charges DRD TOWING with creating hazardous conditions in violation of the Ports and Waterways Safety Act (PWSA), by (1) assigning employees without proper Coast Guard licenses to operate certain vessels thereby causing these vessels to operate in the navigable waters of the United States with manning levels below those determined by the Coast Guard to be necessary for safe navigation, and (2) paying licensed captains to operate a vessel for 24 hour a day without a relief captain, knowing that the Coast Guard viewed the use of over-fatigued mariners operating tugboats and barges to be a hazardous condition that would not allow for safe operation of the vessel. The statutory standard related to fatigue was that operators were prohibited from working for more than 12 hours in a 24 hour period.
In count 2, DRD TOWING is charged with the illegal negligent discharge of oil on July 23, 2008. At approximately 1:30 A.M. on July 23, 2008, the M/V Mel Oliver, owned by DRD, was pushing a tanker barge full of fuel oil when it crossed in the path of the M/T Tintomara, a 600-foot Liberian-flagged tanker ship and caused a collision which resulted in the negligent discharge of approximately 282,686 gallons of fuel oil from the barge into the Mississippi River.

The maximum penalty DRD TOWING faces as to count one is a maximum fine of the greater of $500,000 or twice the gain or loss resulting from the criminal offense, and as to count two, a fine of up to $200,000 or twice the gain or loss resulting from the criminal offense.
In the second case, it is alleged that DANTIN was charged in a separate Bill of Information with obstruction of justice for causing the deletion of "electronic payroll sheets," from a DRD TOWING laptop computer which were material to the Coast Guard Hearing convened to investigate the collision on July 23, 2008 between a the M/V Mel Oliver and M/T Tintomara.

If convicted, DANTIN faces a maximum penalty of five (5) years imprisonment and a fine of $250,000.
U. S. Attorney Letten reiterated that bills of information are merely a charge and that the guilty of the defendants must be proven beyond a reasonable doubt.
This case was investigated by the United States Environmental Protection Agency, Criminal Investigation and the United States Coast Guard Criminal Investigative Service and was prosecuted by Assistant United States Attorney Dorothy Manning Taylor.
(Download Bill of Information

)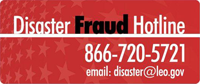 If you believe you have been a victim of fraud from a person or an organization soliciting relief funds on behalf of storm victims or have knowledge of waste, abuse, or allegations of mismanagement involving disaster relief operations, contact the National Center for Disaster Fraud toll free at: (866) 720-5721. You can also fax information to: (225) 334-4707 or e-mail it to: disaster@leo.gov