METAIRIE RESIDENT INDICTED FOR CONSPIRING TO PASS AND UTTER NEARLY $750,000 OF COUNTERFEIT SECURITIES
August 13, 2010
BRIAN KENT, age 54, of Metairie, Louisiana, was charged in a three-count indictment today by a Federal Grand Jury for conspiring to pass and utter counterfeit securities, announced United States Attorney Jim Letten.
According to the indictment, since at least September 2009, KENT has been a part of an international ring of counterfeiters who distribute fake securities and monetary documents, including traveler's checks, cashier's checks, and money orders, to people throughout the United States. In total, it is alleged that KENT himself has received and distributed nearly 8000 of these counterfeit securities since at least September 2009.
According to court documents, KENT was apprehended on August 2, 2010, after he went to pick up a package containing 325 counterfeit postal money orders from the Federal Express office in Kenner, Louisiana. At that time, KENT was also in possession of dozens of counterfeit cashier's checks, traveler's checks, and Money Gram money orders, as well as even more postal money orders. In all, the fake monetary instruments in KENT'S possession on August 2, 2010, totaled almost $750,000.
If convicted of all three counts, KENT faces a mandatory term of imprisonment of twenty (20) years, followed by up to three (3) years of supervised release, and a $750,000 fine.
United States Attorney Letten reiterated that the indictment is merely a charge and that the guilt of the defendant must be proven beyond a reasonable doubt.
This case is being investigated by Immigration and Customs Enforcement-Homeland Security Investigations, United States Secret Service, United States Postal Inspection Service, and the Louisiana State Police. The prosecution of this case is being handled by Assistant United States Attorney Jordan Ginsberg.
(Download Indictment

)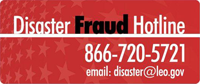 If you believe you have been a victim of fraud from a person or an organization soliciting relief funds on behalf of storm victims or have knowledge of waste, abuse, or allegations of mismanagement involving disaster relief operations, contact the National Center for Disaster Fraud toll free at: (866) 720-5721. You can also fax information to: (225) 334-4707 or e-mail it to: disaster@leo.gov