LULING WOMAN CHARGED WITH BANK FRAUD
September 24, 2010
CHARLOTTE TROXLER, 46, of Luling, Louisiana, was charged in a Bill of Information today with three (3) Counts of defrauding First American Bank in connection with the theft of funds during her employment with Benson Properties, Benson Football L.L.C., and Bensco of Louisiana, L.L.C., as well as Leson Chevrolet Company and Ray Brandt Automobile Dealerships, announced U. S. Attorney Jim Letten.
The prosecution is the result of cooperative efforts between the Jefferson Parish District Attorney's Office and federal authorities. U. S. Attorney Letten expressed his gratitude to Jefferson Parish District Attorney Paul Connick and the fine men and women of his office for their significant contribution to this case.
According to the Bill of Information, TROXLER worked for Benson as a Financial Assistant from on or about 1985 through on or about March 2006; Leson as a Financial Controller from on or about August 2009 through on or about November 2009; and Ray Brandt as a Financial Controller from on or about November 2008 through on or about July 2009. TROXLER stole approximately 1.1 million dollars by creating unauthorized payees on company checks and then depositing the stolen funds into accounts controlled by her including TROXLER's First American Bank account. The bill further alleges that TROXLER misrepresented her authority when she deposited stolen checks into her First American Bank account thereby subjecting First American Bank to risk of civil liability and financial loss.
If convicted, TROXLER faces a possible maximum sentence of thirty (30) years imprisonment, a fine of $1 million and up to five (5) years of supervised release as to each count of bank fraud.. The defendant may also be required to forfeit up to $1.1 million.
The U. S. Attorney's Office reiterated that a Bill of Information is merely a charge and that the guilt of the defendant must be proven beyond a reasonable doubt.
This case was investigated by the Jefferson Parish Sheriff's Office and the Federal Bureau of Investigation. The prosecution is being handled by Assistant United States Attorney James R. Mann.
(Download Bill of Information

)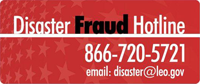 If you believe you have been a victim of fraud from a person or an organization soliciting relief funds on behalf of storm victims or have knowledge of waste, abuse, or allegations of mismanagement involving disaster relief operations, contact the National Center for Disaster Fraud toll free at: (866) 720-5721. You can also fax information to: (225) 334-4707 or e-mail it to: disaster@leo.gov