CORPORATION SENTENCED TO PAY $700,000 IN PENALTIES FOR DELIBERATE OIL POLLUTION
September 29, 2010
$125,000 Ordered to Fund Environmental Restoration in Louisiana
STANSHIPS, INC., (STANSHIPS), headquartered in Athens, Greece, was sentenced today by U. S. District Judge Ginger H. Berrigan to pay$700,000 in criminal penalties for intentional oil pollution in the Gulf of Mexico and for deliberately concealing illegal pollution in falsified ship records. The Court also directed that $125,000 of that amount be paid as community service, and earmarked for habitat conservation, protection, restoration and management projects to benefit fish and wildlife resources and the habitats in the Eastern District of Louisiana.
On June 23, 2010, STANSHIPS previously entered a guilty plea before Judge Berrigan admitting that it had violated the Act to Prevent Pollution from Ships (APPS) and the Clean Water Act. In pleading guilty, STANSHIPS admitted in a factual statement filed in Court that the M/V Doric Glory was leaking approximately 400 liters of oil every four hours from its stern tube during its last voyage to the United States in May 2010. The leak was known to the crew since at least the middle of April, 2010, when the ship was in dry dock in Mexico. The leak and resulting overboard discharges took place in the internal waters, navigable waters, contiguous zone and exclusive economic zone of the United States as the ship traveled through the Gulf of Mexico to New Orleans, LA. The known discharge of a harmful quantity of oil from the M/V Doric Glory was not reported to the United States Coast Guard or National Response Center as is required, nor were the discharges recorded in the ship's Oil Record Book, a required log regularly inspected by the U.S. Coast Guard.
STANSHIPS also admitted that from at least as of December 15, 2009, and continuing through May 14, 2010, the M/V Doric Glory's oily water separator, a required piece of pollution prevention equipment which was to be used to prevent oil pollution by proper disposal of the oily waste water, was not operational. During this time, the engineering crews aboard the M/V Doric Glory regularly discharged oil contaminated waste directly overboard through the use of a pipe that was part of the ship's original design but which was used to deliberately circumvent the oily water separator. According to papers filed in Court, oil contaminated waste was illegally and deliberately discharged overboard from the M/V Doric Glory approximately once a month on the voyages between Jamaica and the United States. The engineering crews knowingly failed to maintain an accurate Oil Record Book in order to conceal the pollution. The false Oil Record Book was presented to the U. S. Coast Guard during an inspection in New Orleans on May 14, 2010, to determine the ship's compliance with MARPOL. Additionally, the ship's crew was unable to demonstrate how the oily water separator worked during the Coast Guard's inspection.
Speaking to today's sentencing, U. S. Attorney Jim Letten stated:
"Today's sentence and the criminal prosecution that preceded it are evidence of the unswerving commitment of our U. S Attorney's Office – along with our partners in the U. S. Coast Guard – to detect and punish deliberate acts of pollution and deception by companies which violate federal laws by cutting corners to save time and money at the expense of our rivers and ports. We simply will not tolerate such destructive conduct and will continue to aggressively enforce against violators."
Rear Admiral Mary Landry, Eight District Coast Guard Commander, added:
"This case again demonstrates the Coast Guard's commitment to work with our interagency partners to aggressively enforce all maritime anti-pollution and safety of life at sea laws. The work of the federal agencies involved continues to send a signal that the importance of maritime transportation must be balanced with the equal importance of environmental stewardship."

In accordance with a plea agreement with prosecutors, Judge Berrigan sentenced STANSHIPS to serve three years on probation during which time it must develop and implement an Environmental Compliance Plan that includes audits by an independent firm and oversight by a Court Appointed Monitor.
This case was investigated criminally by the United States Coast Guard Criminal Investigative Services and was prosecuted by Assistant United States Attorney Dorothy Manning Taylor, and Senior Trial Attorney Richard A. Udell with the Environmental Crimes Section of Department of Justice.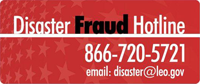 If you believe you have been a victim of fraud from a person or an organization soliciting relief funds on behalf of storm victims or have knowledge of waste, abuse, or allegations of mismanagement involving disaster relief operations, contact the National Center for Disaster Fraud toll free at: (866) 720-5721. You can also fax information to: (225) 334-4707 or e-mail it to: disaster@leo.gov