GREG MEFFERT, FORMER NEW ORLEANS CHIEF TECHNOLOGY OFFICER AND"DEPUTY MAYOR" PLEADS GUILTY TO FEDERAL CONSPIRACY, BRIBERY, FRAUD, AND RELATED CHARGES
November 1, 2010
GREGORY MEFFERT ("MEFFERT"), age 45, a former resident of New Orleans, pled guilty today before United States District Judge Eldon E. Fallon to conspiracy to commit wire fraud and bribery concerning programs receiving federal funds (Count 1 of the existing indictment), and filing a false tax return (Count 62), announced U. S. Attorney Jim Letten, along with FBI Special Agent-in-Charge David Welker, and IRS-CID Special Agent-in-Charge James Lee.
According to the factual basis from MEFFERT'S guilty plea hearing, beginning in 2002 and continuing for several years, MEFFERT, former Chief Technology Officer and Executive Assistant to the Mayor of New Orleans, and city vendor MARK ST. PIERRE ("ST. PIERRE") (Imagine Software, NetMethods, Method Investments, and Veracent) participated in a conspiracy to use MEFFERT'S position with the City of New Orleans to manipulate the procurement process for technology services to provide millions of dollars in city funds to ST. PIERRE and his companies who illegally made bribes and kickbacks to MEFFERT.
According to court records, ST. PIERRE paid over $860,000 in funds, credit card purchases, and membership dues to and for the benefit of GREGORY MEFFERT between 2004 and 2007.
Additionally, according to court records, MEFFERT approved and facilitated payments to ST. PIERRE'S companies, through a prime contractor, of approximately $4 million between 2004 and 2006, and in or about July 2006, directed the order and purchase of "crime cameras" for the City of New Orleans through a no-bid process, which permitted ST. PIERRE to purchase cameras from an out-of-state manufacturer and resell them to Dell, Inc. Which re-sold them to the City for ST. PIERRE to install.

MEFFERT also pled guilty to filing a false income tax return for tax year 2006, in which he failed to fully account for the monies he received from ST. PIERRE.

As a result of the guilty plea today, MEFFERT faces up to eight (8) years imprisonment, criminal forfeiture and fines. MEFFERT executed a plea agreement with the Government which was made part of the court record at the guilty plea hearing today. A major component of that agreement is a requirement that MEFFERT provide complete accurate and truthful cooperation with the prosecution in this and any other related cases.
Additionally, the Government, through a publicly filed diversion agreement, has agreed that following a one-year probationary period, existing charges will be dismissed against GREGORY MEFFERT'S wife, LINDA MEFFERT.

FBI Special Agent-in-Charge David Welker added:

"Today's guilty plea once again highlights the fact that the FBI, United States Attorney's Office and our law enforcement partners will continue to persevere and will tirelessly pursue political figures who abuse their office for personal gain. Today's guilty plea should send a very clear message that we will continue to move forward in this case and follow the evidence wherever it takes us."

James Lee, Special Agent-in-Charge of the Internal Revenue Service Criminal Investigation stated:
"We are pleased with the announcement of Mr. Meffert's guilty plea. Quite often crimes of greed include more than concealing income from the IRS. This investigation is a prime example of how Special Agents of IRS Criminal Investigation work with the FBI and the United States Attorney's Office to bring individuals involved in fraud to justice. We will continue to work tirelessly with our law enforcement partners to stop those individuals who scheme and conspire with each other to benefit themselves to the detriment of other citizens and their government."

Speaking of today's plea, United States Attorney Jim Letten stated:

"We are extremely pleased with today's guilty plea and acceptance of responsibility by former New Orleans Deputy Mayor Gregory Meffert to charges that he conspired with others to commit wire fraud and bribery, as well as the filing of false tax returns. We believe that these two counts fully address the scope of his illegal conduct in his capacity, and with others in this matter. Moreover, we believe that the resolution regarding Mr. Meffert's wife, Linda, is entirely appropriate under the circumstances. My special gratitude – along with that of our federal partners in the FBI and IRS, goes out to New Orleans Inspector General Ed Quatrevaux and his team for his professionalism, cooperation, and partnership in this and other important matters affecting the city and citizens of New Orleans.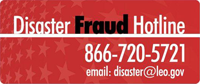 If you believe you have been a victim of fraud from a person or an organization soliciting relief funds on behalf of storm victims or have knowledge of waste, abuse, or allegations of mismanagement involving disaster relief operations, contact the National Center for Disaster Fraud toll free at: (866) 720-5721. You can also fax information to: (225) 334-4707 or e-mail it to: disaster@leo.gov