NEW ORLEANS MAN SENTENCED TO 15 YEARS IN FEDERAL PRISON FOR CARJACKING
November 19, 2010
JESSE SCOTT, age 20, a resident of New Orleans, Louisiana, was sentenced yesterday in federal court by U. S. Senior District Judge A. J. McNamara to fifteen (15) years (180 months) in prison for carjacking, announced U. S. Attorney Jim Letten. In addition, the defendant was ordered to serve three (3) years supervised release during which time he will be under federal supervision and risks additional imprisonment should he violate any terms of the release.
The Government felt that the recommended sentencing guidelines of 63 - 78 months inadequately reflected the serious nature of the offenses and requested an upward departure. Judge McNamara granted the Government's request and the sentence represents an upward departure of 8 ½ years above his sentencing guidelines.
According to court documents, on August 18, 2010, SCOTT pled guilty to a July 21, 2006 carjacking of a 24 year old woman in the 7900 block of Cohn Street in New Orleans. At the time of the carjacking, SCOTT was a federal juvenile, but, following a hearing held before Judge McNamara in November of 2007, he was adjudicated as an adult, allowing the United States Attorney to seek his indictment as an adult offender. On August 18, 2010, SCOTT pleaded guilty to two charges filed against him: on count one, conspiracy to use firearms in relation to carjackings; and on count three, the carjacking of the younger woman.
According to the factual basis filed in court at the time of SCOTT'S guilty plea, an 87 year old woman returned to her home in Jefferson after a shopping trip late in the afternoon of July 21, 2006. She was accosted in her driveway by a masked youth who threatened to shoot her if she didn't hand over the keys to her vehicle, a Nissan Sentra. A short time later, the Sentra was involved in a collision at the corner of Hickory and Short Streets in the Carrollton area of New Orleans. SCOTT and two other juvenile accomplices bailed out of the Sentra and ran around the corner to Cohn Street, where the second victim was carjacked at gunpoint of her Chevrolet Malibu. She was threatened that she would be shot if she did not comply. The carjacking was witnessed by two men, one of whom chased the Malibu and tried to apprehend its driver. After a single gunshot was fired at the witness, he backed off, allowing SCOTT and his cohorts to escape.
This case was investigated by Special Agents of the Bureau of Alcohol, Tobacco, Firearms and Explosives along with the officers of the New Orleans Police Department. The case was prosecuted by Assistant United States Attorney Michael E. McMahon.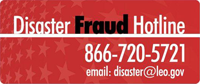 If you believe you have been a victim of fraud from a person or an organization soliciting relief funds on behalf of storm victims or have knowledge of waste, abuse, or allegations of mismanagement involving disaster relief operations, contact the National Center for Disaster Fraud toll free at: (866) 720-5721. You can also fax information to: (225) 334-4707 or e-mail it to: disaster@leo.gov