FORMER MANDEVILLE CPA FACES SUPERSEDING INDICTMENT FOR WIRE AND MAIL FRAUD
February 3, 2011
ANTHONY TULLI, age 54, a resident of Mandeville, Louisiana, was charged today by a federal grand jury in a forty-six-count superseding indictment with one count of mail fraud and 45 counts of wire fraud, announced U. S. Attorney Jim Letten.
The original indictment returned in April, 2010 charged one count of mail fraud. Today's superseding indictment adds forty-five counts of wire fraud.
According to court documents, in April, 2010, TULLI was charged with mail fraud in a one-count indictment. According to that indictment, TULLI, then a certified public accountant, devised a fraudulent scheme to defraud a North Shore business out of at least $40,000.00. TULLI's CPA certificate was revoked by the State Board of Certified Public Accountants of Louisiana in May, 2010. It is alleged that TULLI contracted with the business to handle all of its payroll services. He was to issue pay checks to employees, calculate tax withholdings and submit the federal and state income taxes to the appropriate taxing authority. The indictment alleged that TULLI failed to submit the taxes on behalf of the business and hid his scheme by listing his business address as the point of contact instead of the victim business when the taxing authorities sent delinquent notices.
In today's superseding indictment, the grand jury realleges the April 2010 charge and charges 45 counts of wire fraud alleging that TULLI used the interstate wire system to steal more than $170,000.00 from a North Shore business engaged in oil field consulting. In this instance, it is alleged that TULLI, while contracted to perform payroll services, fraudulently overstated the amount of state and federal unemployment taxes and FICA withholdings in his bi-weekly billings to the firm. The superseding indictment alleged that TULLI caused data to be transmitted via email which he used to prepare the fraudulently inflated invoices.
If convicted, TULLI faces a maximum term of imprisonment of twenty (20) years on each count, millions in fines, and possible restitution to the North Shore businesses.
U. S. Attorney Letten reiterated that an indictment is merely a charge and that the guilt of the defendant must be proven beyond a reasonable doubt.
The case was investigated by agents of the Internal Revenue Service, Criminal Investigation Division and is being prosecuted by Assistant U. S. Attorney Carter K. D. Guice, Jr.
(Download Superseding Indictment

)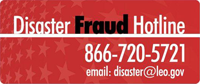 If you believe you have been a victim of fraud from a person or an organization soliciting relief funds on behalf of storm victims or have knowledge of waste, abuse, or allegations of mismanagement involving disaster relief operations, contact the National Center for Disaster Fraud toll free at: (866) 720-5721. You can also fax information to: (225) 334-4707 or e-mail it to: disaster@leo.gov