HOUMA MAN CHARGED WITH DEFRAUDING GULF COAST CLAIMS FACILITY
April 21, 2011
NICHOLAS BILLIOT, age 25, a resident of Houma, LA, was indicted by a Federal Grand Jury with one count of mail fraud relating to a fraudulent application he made to the Gulf Coast Claims Facility (GCCF) for financial assistance in the aftermath of the Deepwater Horizon oil spill in the Gulf of Mexico, announced U. S. Attorney Jim Letten.
According to the indictment, the GCCF made disaster assistance money available to individuals and businesses affected by the oil spill resulting from the Deepwater Horizon explosion. The GCCF required business owners claiming a loss to have been operating their business at the time of the oil spill and to verify loss of income. It is alleged that on August 30, 2010, BILLIOT applied for disaster assistance funds and intentionally violated the GCCF requirements by applying for funds as the owner of Hope's Home Improvement, operating in Terrebonne Parish and representing that he had incurred business losses. It is further alleged that Hope's Home Improvement had never operated or conducted any business. The indictment alleges that based on BILLIOT's fraudulent application, the GCCF issued two checks totaling $26,000, which BILLIOT was not entitled to.
If convicted, BILLIOT faces a possible maximum term of twenty (20) years imprisonment, a $250,0000 fine, possible restitution, and three (3) years of supervised release following imprisonment.
U. S. Attorney Letten reiterated that the indictment is merely a charge and that the guilt of the defendant must be proven beyond a reasonable doubt.
The case was investigated by the U. S. Secret Service. The case is being prosecuted by Assistant U. S. Attorney Marvin Opotowsky, Disaster Fraud Coordinator.
(Download Indictment

)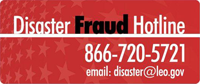 If you believe you have been a victim of fraud from a person or an organization soliciting relief funds on behalf of storm victims or have knowledge of waste, abuse, or allegations of mismanagement involving disaster relief operations, contact the National Center for Disaster Fraud toll free at: (866) 720-5721. You can also fax information to: (225) 334-4707 or e-mail it to: disaster@leo.gov