JURY CONVICTS MARK ST. PIERRE ON ALL 53 CORRUPTION COUNTS
May 26, 2011
MARK ST. PIERRE, age 47, a resident of Belle Chasse, was convicted today on all counts of a 53-count indictment with conspiracy, wire fraud, bribery concerning programs receiving federal funds and money laundering, announced U. S. Attorney Jim Letten and FBI Special Agent in Charge David Welker.
Based on the evidence introduced at trial, the jury specifically found that ST. PIERRE committed conspiracy, honest services wire fraud, bribery and money laundering in connection with his bribery and kickback scheme involving two City of New Orleans public officials, Gregory Meffert and Anthony Jones. Both Meffert and Jones were Chief Technology Officers for the City of New Orleans spanning 2002 - 2008 under then mayor C. Ray Nagin.
Speaking to today's conviction, U. S. Attorney Jim Letten stated:
"Mark St. Pierre bought his way into New Orleans City Hall with money, yachts, dancers, parties, credit cards and more. For his ultimate greed, avarice, and arrogance, he will now pay a high price to the citizens he stole from. Today's verdict is extraordinarily important because through the outstanding work of the investigation and prosecution team, the citizens of this City and the region were permitted to see the ugly workings of a scheme by a businessman to corruptly buy wealth, power and influence through equally corrupt high government officials. It is also important, because it sends a clear and unmistakable message to those corrupt business people out there who would attempt to similarly purchase influence corruptly, that no government is for sale in the Eastern District of Louisiana. This investigation continues."
Special Agent in Charge David Welker, FBI, stated,
"The only thing needed for public corruption to flourish are greed and opportunity, and an apathetic public. This verdict sends a clear message that it is no longer business as usual in the City of New Orleans. The public has spoken in the form of the jury - corruption will no longer be tolerated!"
James C. Lee, Special Agent in Charge of Internal Revenue Service Criminal Investigation, New Orleans Field Office, added,
"We are pleased with today's verdict. The Internal Revenue Service Criminal Investigation will continue to aggressively work with the United States Attorney's Office, the FBI and our other law enforcement partners to identify and prosecute those individuals who violate the public trust through investigations that ultimately lead to violations of the tax or money laundering statutes," .
The U. S. Attorney expressed his deepest gratitude to the Assistant U. S. Attorneys and the U. S. Attorney's Office support personnel; to the he men and women of the FBI and IRS Criminal Investigations Division, and to Inspector General Ed Quatrevaux and his investigators who worked seamlessly together for untold hours to uncover evidence of the intricate relationships and transactions of this critical case.
The case was investigated by the Federal Bureau of Investigation, the Internal Revenue Service, Criminal Investigation Division and the New Orleans Inspector General's Office. The case is being prosecuted by Assistant U. S. Attorneys Matthew Coman, Richard Pickens, Jon Maestri and Matthew Chester.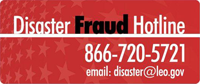 If you believe you have been a victim of fraud from a person or an organization soliciting relief funds on behalf of storm victims or have knowledge of waste, abuse, or allegations of mismanagement involving disaster relief operations, contact the National Center for Disaster Fraud toll free at: (866) 720-5721. You can also fax information to: (225) 334-4707 or e-mail it to: disaster@leo.gov