TICKFAW WOMAN PLEADS GUILTY TO CONSPIRACY TO DEFRAUD THE FEDERAL GOVERNMENT
June 9, 2011
TARSHIA MCGARY, age 31, a resident of Tickfaw, Louisiana, pled guilty in federal court before U.S. District Court Judge Jay C. Zainey to conspiracy to defraud the government by filing false claims for refunds, announced U.S. Attorney Jim Letten.
The bill of information charged MCGARY with using identifying information such as social security numbers, dates of birth, etc. to prepare and file fraudulent tax returns with
the Internal Revenue Service, in order to obtain fraudulent tax refunds.
MCGARY received the stolen identities from individuals that stole the documents from an office building that was being cleaned after Hurricane Katrina. These individuals then brought the stolen documents back to MCGARY where they discussed filing tax returns in the names of the people on the list. They discussed ways to maximize the tax refunds by preparing the tax returns with fraudulent self-employment income, generally ranging from $11,000 to $13,000 and by adding false dependents, in order to achieve the maximum Earned Income Tax Credit, usually generating a refund of approximately $2600 to $4500.
MCGARY then opened prepaid debit card accounts using the stolen identities so that there would be a place to deposit the fraudulent refunds. They then logged onto the Turbo Tax website, in order to file the fraudulent tax returns in the names of the people contained on the stolen list. Once these returns were filed and the refunds processed, MCGARY and others, directed the debit card company to mail the debit cards to different addresses, including post office boxes, so as to avoid the suspicion that would have accompanied mailing all of the debit cards to one address. Once they received the cards, they could use the cards to generate cash, as well as to purchase personal items.
MCGARY faces up to ten (10) years imprisonment and a fine of $250,000. Sentencing is set for September 6, 2011 at 10:00am
The case was investigated by the Special Agents of the Internal Revenue Service, Criminal Investigations. The prosecution is being handled by Assistant United States Attorney Jon Maestri.

(Download Factual Basis

)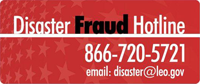 If you believe you have been a victim of fraud from a person or an organization soliciting relief funds on behalf of storm victims or have knowledge of waste, abuse, or allegations of mismanagement involving disaster relief operations, contact the National Center for Disaster Fraud toll free at: (866) 720-5721. You can also fax information to: (225) 334-4707 or e-mail it to: disaster@leo.gov