GRETNA WOMAN SENTENCED FOR CHARGES RELATED TO FILING FRAUDULENT CLAIM FOR OIL SPILL COMPENSATION
June 22, 2011
CAM T. HANG, age 48 , a resident of Gretna, Louisiana, was sentenced in federal court today before U.S. District Judge Helen G. Berrigan to eight (8) months home detention and two (2) years probation for mail fraud relating to a fraudulent application she made to the Gulf Coast Claims Facility (GCCF) for financial assistance during the aftermath of the Deepwater Horizon oil spill in the Gulf of Mexico, announced U. S. Attorney Jim Letten. In addition, Judge Berrigan ordered HANG to perform 100 hours of community service.
According to court documents, the GCCF made disaster assistance money available to individuals and businesses affected by the oil spill resulting from the Deepwater Horizon explosion on April 20, 2010. The GCCF required business owners claiming a loss to have been the lawful owner or authorized operator or employee of the business at the time of the oil spill and to verify loss of income. The documents show that from on or about May 14, 2010 to on or about September 12, 2010, HANG fraudulently applied for disaster assistance funds from GCCF, representing that she was the owner of C.H. Food Mart, Inc. at the time of the explosion. In truth, HANG had sold the business prior to the explosion. Based on the fraudulent applications, the GCCF ultimately issued a check to C.H. Food Mart, Inc. and HANG in the amount of $42,000, which HANG was not entitled to.
The case was investigated by the Federal Bureau of Investigation. The case was prosecuted by Assistant U. S. Attorney Julia K. Evans.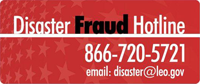 If you believe you have been a victim of fraud from a person or an organization soliciting relief funds on behalf of storm victims or have knowledge of waste, abuse, or allegations of mismanagement involving disaster relief operations, contact the National Center for Disaster Fraud toll free at: (866) 720-5721. You can also fax information to: (225) 334-4707 or e-mail it to: disaster@leo.gov