METAIRIE MAN PLEADS GUILTY TO INVOLVEMENT IN INTERNATIONAL COUNTERFEITING SCAM
July 6, 2011
BRIAN KENT, age 55, of Metairie, Louisiana, pleaded guilty today before United States District Judge Stanwood R. Duval, Jr., to federal criminal charges relating to his conspiring to utter and possess counterfeit postal money orders and securities, announced United States Attorney Jim Letten.
According to court documents, since at least September 2009, KENT has been a part of an international ring of counterfeiters who distribute fake securities and monetary documents, including traveler's checks, cashier's checks, and money orders, to people throughout the United States through a fraudulent "Mystery Shopper" program. The Program involved contacting and, ultimately, hiring unsuspecting "employees" who sign up via e-mail. The scheme requires employees to receive securities (which, unbeknownst to the "employees," are counterfeit) via the mail and cash them at local banks and/or check cashing services. "Employees" are instructed to use a wire transfer service promptly after cashing the checks to transmit a portion, typically the overwhelming majority, of the money back to unnamed "employers" within the Program at designated locations. "Employees" are also instructed to submit a report or evaluation on the process. The putative purpose of the Program is to "test" the wire transfer company's service. As payment, the "employees" of the Program are allowed to keep a portion of the funds from each cashed check. Subsequently, once the bank realizes that the check is counterfeit, the counterfeit instrument bounces, leaving either the "employee" of the Program or the bank that cashed the instrument left with a loss for the amount cashed.
KENT, as a "Payee Supervisor" for the fraudulent program, received packages of the counterfeit securities, as well as lists of the names and contact information of individuals located throughout the United States to whom the checks should be sent, from individuals located in Nigeria and Turkey. KENT was responsible for sending each person on the list at least one of the counterfeit securities, and he knew that the securities were, in fact, fake.
According to court documents, KENT was apprehended on August 2, 2010, after he went to pick up a package of counterfeit postal money orders from the Federal Express office in Kenner, Louisiana. At that time, KENT was in possession of hundreds of counterfeit cashier's checks, traveler's checks, Money Gram money orders, and postal money orders. In all, the fake monetary instruments in KENT'S possession on August 2, 2010, totaled over $400,000.
KENT faces a maximum term of imprisonment of fifteen (15) years, followed by up to three (3) years of supervised release, and a $500,000 fine. Sentencing has been scheduled for November 2, 2011.
This case is being investigated by Immigration and Customs Enforcement-Homeland Security Investigations, United States Secret Service, United States Postal Inspection Service, and the Louisiana State Police. The prosecution of this case is being handled by Assistant United States Attorney Jordan Ginsberg.
(Download Factual Basis

)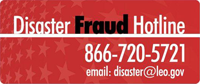 If you believe you have been a victim of fraud from a person or an organization soliciting relief funds on behalf of storm victims or have knowledge of waste, abuse, or allegations of mismanagement involving disaster relief operations, contact the National Center for Disaster Fraud toll free at: (866) 720-5721. You can also fax information to: (225) 334-4707 or e-mail it to: disaster@leo.gov